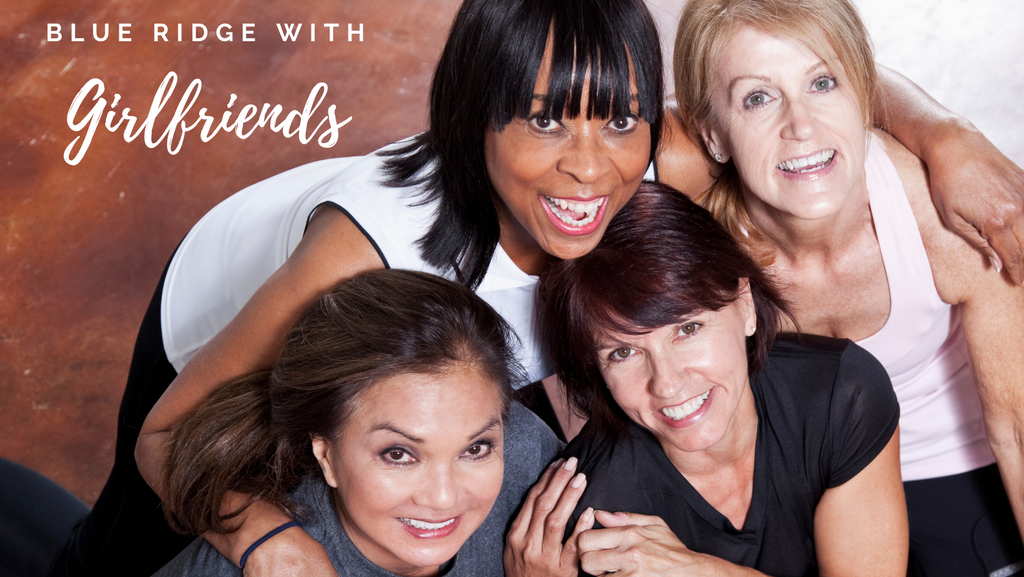 When a bunch of girlfriends get together, a heavy agenda is not always necessary. In my experience, we spend so much time catching up that it's hard for us to mobilize to do anything. We have learned that we do best with an itinerary but it does not need to be jam packed for us to have a great weekend.
Besides conversation, essential ingredients are comfortable accommodations, late mornings, great food, and one or two interesting activities with some shopping thrown in, of course. With that is mind, Blue Ridge really is an excellent destination. These itineraries are by no means exhaustive but will give you a few ideas of things to do.
TIP: Before you arrive, consider making reservations for meals and activities. On the weekends places can get very crowded.
SETTLING IN
If you are staying at Century View Lodge, you will find all the tools you need to prepare a fabulous meal. But, if restaurants are more to your liking, one of our favorites is Harvest on Main . Dinner there will set a great tone for the rest of your visit.
706.946.6164
576 E. Main St., Blue Ridge, GA
After dinner return to Century View Lodge and watch the sunset from the rocking porch then slip into a comfy chair in front of a fire, either inside or out. If you are feeling weary, spend some time in the hot tub to melt your stress away. Then stream a good movie or just talk into the wee hours.
On The Town
There's no need to wake up early. When you are ready to venture out, download this map and head downtown to get a bite to eat before shopping.
A cute place is Hansen's Grill. By the way, if you order extra bacon, you will get like six slices!
706.258.2867
560 E. Main St., Blue Ridge, GA
Running late is not a bad thing when it means you can get a little taste of France at Danielle's Café. (They don't open until 11:00.) Crepes anyone?
706.632.3094
611 E. Main St. Blue Ridge, GA
For an Über artisanal coffee experience, try Das Kaffee Haus. They have some really usual craft mixtures like "Chocolate Peanut Butter" and "Candied Orange".
706.636.1111
612 E. Main St., Blue Ridge, GA
Next, explore the wonderful collection of local shops and galleries. There are offerings for pet lovers, artists, foodies, sporty types, you name it! While you are downtown, you may happen upon the weekly farmers market or a local festival.
Meander through one of the galleries or the Art Center . If you plan ahead, you can even take a class!
706.632.2144
420 W. Main St., Blue Ridge, GA
As you are walking through town, don't forget to snap a few photos in front of some of the great wall murals or playful trout sculptures.
If you want to eat dinner in town, try one of the new options, Whiskey & Water- Seafood and Bourbon Bar. This place has been an instant hit!
Whiskey & Water- Seafood and Bourbon Bar
706 .946. 0551
187 Depot Street
To round out the evening you may want to catch a live performance at the Blue Ridge Community Theater.
706.632.9223
2591 E. First St.
Getting Outdoors
There are plenty of options for outdoor adventure like hiking, fishing, zip-lining, and water sports, but you may want to try horseback riding.
706.374.0362
4100 Cutcane Rd., Mineral Bluff, GA
The morning of your outing, take a cooler and make your first stop Mercier Orchards. They have a great store but also sell box lunches if you pre-order. While you are there, grab some baked goods for a quick breakfast. Our favorite is the apple cinnamon bread.
706.632.3411
8660

Blue Ridge Dr., Blue Ridge, GA
After your ride, on your way back to Blue Ridge, stop at one of my latest finds, the produce market on the corner of Highway 60 and 76.
If you time it right, you can snack on roasted corn but you can always find a ton of fresh fruits and veggies and of course, pork rinds and boiled peanuts.
706.258.7873
10480 Lakewood Hwy, Mineral Bluff, GA
Take your time getting back to town because the area is flush with antique stores for truly unique finds. This shopping map will give you a few ideas.
If you want a really casual dinner with a fun vibe and like thin crust, Mystic Mountain Pizza is the place.  They often have live music in this super hippie joint and the pizza is fabulous! Another thought is to carryout  and head back to Century View where the hot tub awaits.
706.946.0378
4118 E. First St., Blue Ridge, GA
Rest and Relaxation
Go for brunch or lunch at one our favorite spots, The Black Sheep. It has a great atmosphere, fabulous food, plenty of outdoor seating,  and wonderful staff. You will not be disappointed!
706.946.3663
480 W. Main St., Blue Ridge, GA
Then spend a few hours getting pampered at Serenity in the Mountains Day Spa. Don't miss the new Salt Cave!
 Serenity in the Mountains Day Spa
706.258.2244
59 McKinney Rd. Blue Ridge, GA
To finish out the day, try something a little different, Bin 322 Wine and Tapas Bar. Enjoy live music, movies, or trivia night, depending on when you go.
706.946.0472
116 W. Main St., Blue Ridge, GA
Just The Beginning....
This list is just the tip of the iceberg. I didn't even get to the wine tour! No matter what you choose to do, you will have great memories of your time in Blue Ridge! Keep coming back to our website to find more ideas of activities for everyone. Enjoy!
Disclaimer: Some photos in this post are not specific to the company or restaurant described.