Even When It Is Foggy and Gray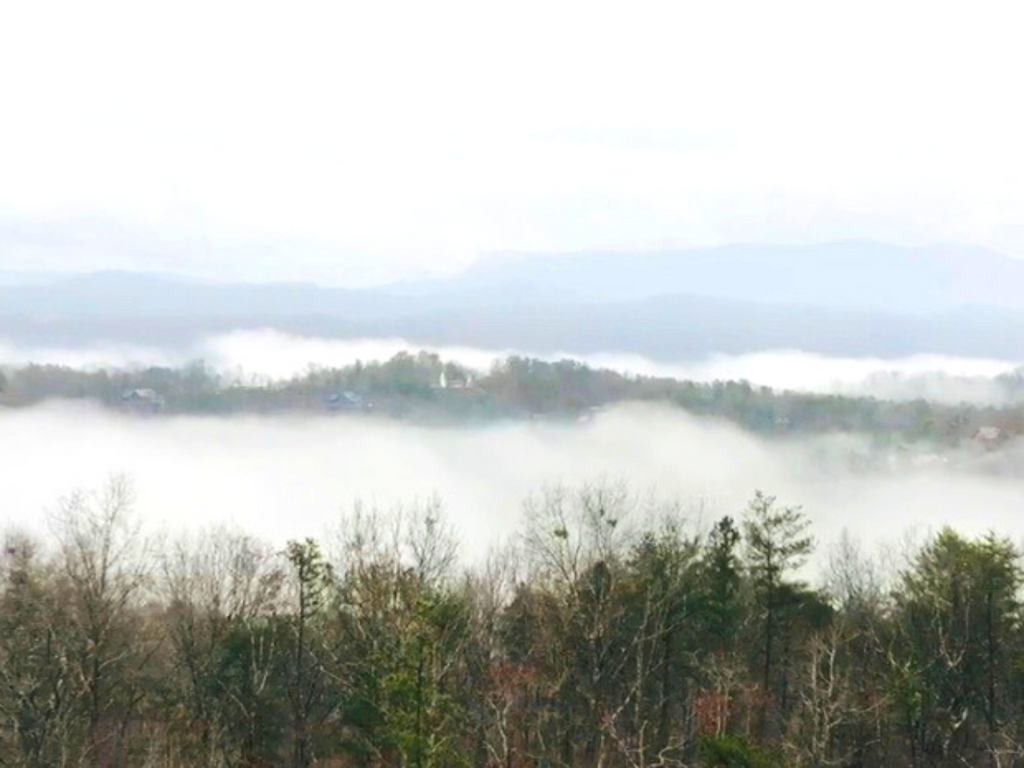 Do you think the weather matters on vacation? Not in Blue Ridge, Georgia. Of course if you are doing outdoor pursuits, a sunny day is optimal. But you can still enjoy the mountains and this sweet town, even when it is cold and gray. Here is what I would do.
My first stop would be Mercier Orchards to pick up some  cider donuts or cinnamon apple bread for breakfast. If I am feeling really naughty, I may go for some apple fritters or fried pies. But a bag of apples is a must! My favorite are the Crimson Crisp.
Once back at Century View Lodge, after taking a deep breath,  looking at the ever-changing view, I would turn on the fireplace. There is something extra cozy about a fire on a dreary day.
After a dinner of something simple prepared in the fully-stocked kitchen or perhaps some take out from Mystic Mountain Pizza, kicking back with a good movie would be my preference. But I have a feeling the hubs would head to the hot tub for a little R&R first.
The next day, I would make my way into Blue Ridge. A must stop would be the Blue Ridge Olive Oil Company to stock up on favorites and try some new options. Depending on how virtuous I would be feeling at the time, I possibly would pick up the BEST hot chocolate at The Sweet Shoppe of the South. While there, I would have to get some cupcakes for dessert after dinner.
I would cruise some of the boutiques and galleries, getting inspiration and maybe buying a little something. Then depending on if the kids were along, the hubs and I would head to a winery for the afternoon. There are plenty to choose from. But the one we would happily return to is Crane Creek in Young Harris. It's a bit of a drive but what does that matter in the beautiful North Georgia Mountains?  It's a nice place to spend a couple of hours. There are tables inside but also a covered porch with a fireplace. They do have some light snacks to go with the wine but there is also a full-service restaurant on site. Sounds nice, doesn't it?
Now if the kids were with us and the weather was not great, maybe we would try something new like Vertigo Pinball? That would be a hit with any age! We haven't been there yet but it's on the list.
Dinner could be at any number of great places. It's all about what people are craving. That garlicky kale salad at Federal Ledger? Lobster Mac at Whiskey and Water? A rich soup at Harvest on Main? Steak at The Black Sheep? If we forgot to make reservations or wanted something more low-key, we would try Carroll's Barbecue or Sue's Burgers.
Back at Century View, the fire place would be lit and game night begin. What am I saying? I'd be too tired for games. The kids would head to the lower level and watch their favorite shows while playing shuffleboard and we would chat until cupcake time. Then maybe we would do a little binge watching. No judgement! It's vacation! 
Do I need to go on? I mean, you get the idea. Don't be deterred by cold or wet weather. The mountains are a beautiful respite any time. So come rest, explore, connect, and create at Century View Lodge in Blue Ridge!