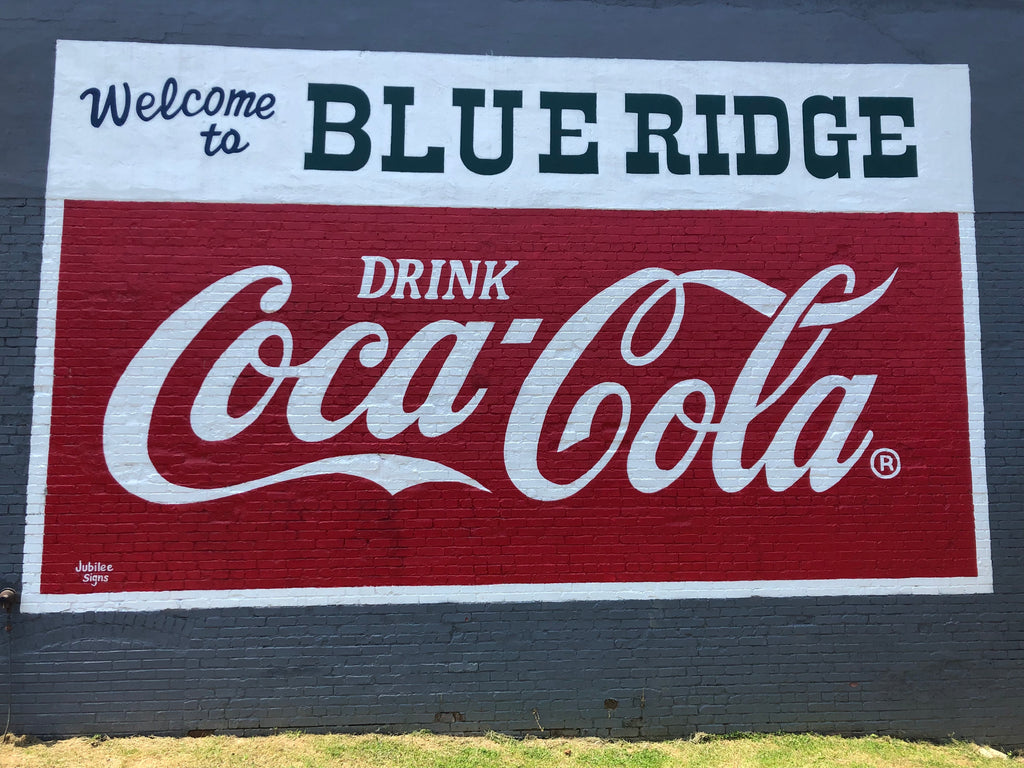 We have been part of Blue Ridge for over two years now. But there are always new things to discover and places to explore. This blog will make you think all we did was eat. Not true! But I didn't think you wanted to hear about gathering soil samples and business appointments. Also, I am a foodie so I just can't help myself.
Recently we had only 24 hours to get away, just the hubs and I, for our anniversary. After a very long appointment, I was quite peckish and in need of sustenance so we stopped at our favorite quick bite spot, The Rum Cake Lady. We love this place and the owner has worked so hard to make it successful so when  there is no parking and a long line, I am happy for her. By the way, if that's the case, just get some of the grab and go options like we did: empanadas, chimichurri  (green sauce), and her seasonal Pumpkin Rum Cake Bites. So moist and flavorful! Note: They close at 4:00.
No autumn trip to the mountains is complete without stopping at one of the several apple houses. Our closest option happens to be the best, Mercier. So we stocked up on some Crimson Crisp  and also bought some apple cider donuts for our little kids, and boiled peanuts for the hubs.  Note: We did this on Friday because we knew Saturday the place would be flooded with visitors.
That night. we celebrated our anniversary and returned to one of the newer upscale restaurants downtown, The General Ledger. I decided to go with the best seller, Pecan Crusted Trout, mashed potatoes, and kale salad. Let me tell you, it was OUTSTANDING! I would be happy to order that every time! (That is not what is pictured below.) The service was quick and friendly and the vibe is casual, but upmarket. Please check it out. I want these guys to be around a long time! Note: They do take reservations.
Saturday morning we headed over to Blairsville to the Union County Farmer's Market. This was such a pleasure! We came away with beets (because our hearts are Ukrainian), corn jelly (so weird I had to try it), artisanal bread (for dinner) kettle corn (for the kids), Val's lemon blueberry biscotti, (for me and research) and two kinds of honey (more research) and an apple hand pie and coffee for a late breakfast (again, for me). They had so much more, including arts and crafts! I plan on this being a regular thing. Note: Only service dogs are allowed but they do have a doggie sitting service. 
Next we decided to explore a local winery, Serenberry, in Morganton. I had the sweet flight and my husband had the reds. We were able to enjoy our wine in leisure out on the covered patio in the peace and quiet.  Note: They have a few packaged snacks to go with your tasting but do not serve anything that we could tell. The dog was allowed outside but not in.
As we drove through downtown Blue Ridge on our way back home we noticed a new playground, Blue Ridge Park, right beside the Willa Mae Haight Park, which has a nice gazebo and picnic spot. This is a perfect bribe for the kids when you want a little shopping time or a good place to just rest your bones and people watch.
There are two lessons to learn here: 1) Even if you only have one night in Blue Ridge, you can see and do quite a bit. 2) Blue Ridge is ever changing so there is always a little something new and different to experience.
When you are ready to stay a little longer, check out Century View Lodge.