Stretching The Flower Budget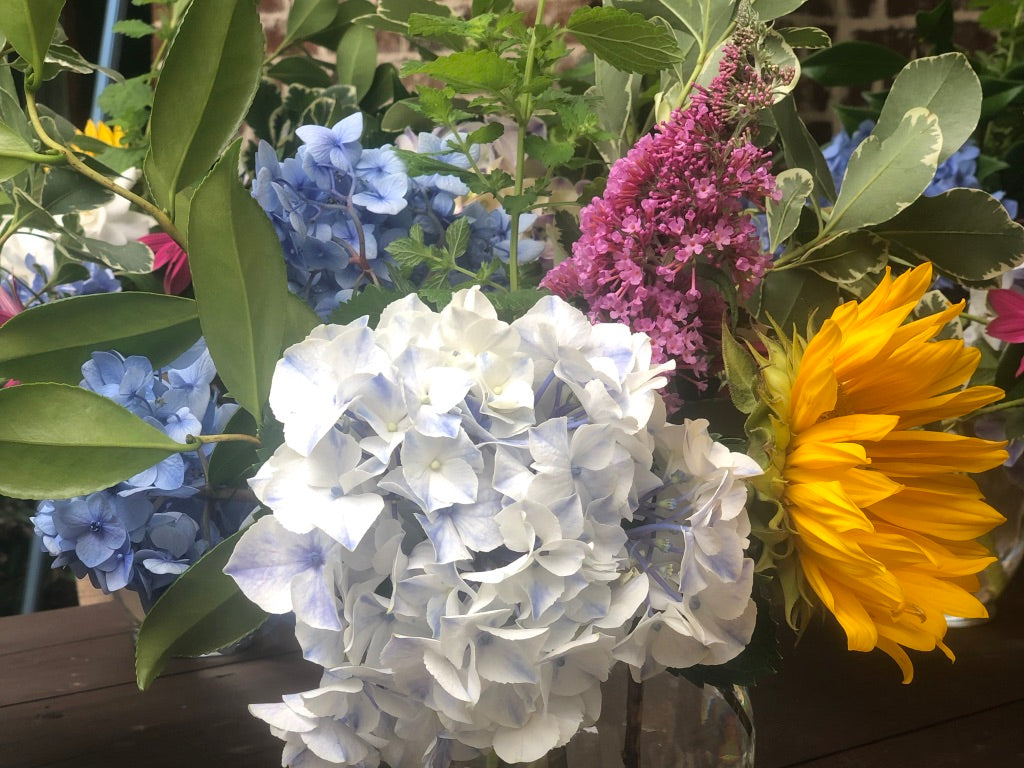 Do you have a little panic attack whenever you order flowers? They can be so expensive! Granted, you are paying for expertise. Florists are knowledgeable and  creative. But what if you needed a lot of arrangements and your flower budget couldn't support that? Over the years I have helped people with weddings and banquets and it seems that every time the flower budget was very constrained. But there are several ways you can overcome this hurdle and still have a beautiful event.
Go small. I am all about scale so I am not saying to use a single bloom in a bud vase on an 8' table. A better plan is to find a wide glass bowl. Cut a large single bloom or three smaller ones and float them. If you place the bowl on a mirror with candles, it adds sparkle and reflection, giving the illusion of a larger arrangement. If you have some blooms lose their stems this is a terrific option. Or if you have very short-stemmed flowers like gardenias, camellias, and knockout roses, this is perfect.
Go single.  Single stems en mass make a great statement. Pictured here are nine tall bottles in a wooden trough with nine hydrangea blossoms. ( You can buy this HERE, by the way.)
Go fake. Yes, you read that right. Find the most realistic flowers you can at the end of the season, at least 50% off. Don't forget the greenery too. For my own wedding, we used artificial flowers for almost everything that would be seen from a distance. They were mostly white gardenias and I actually bought some gardenia scented oil to fake people out. Below you see all artificial flowers bought at the end of the season that I used the following year for our annual fundraiser.
Go live. The great thing about this is that the arrangements will serve double duty because you can plant them when you are finished. I have done that with petunias, sweet potato vines, and mums. In fact, at my wedding, my mom had the foresight to contract with a local greenhouse to actually grow white mums especially for us, an advantage of living in a small town. They made a huge statement on the stage. (You can see the artificial arrangements in the background.)
Go with a combo. Once I used live sweet potato vine with artificial roses. For our wedding we added dried eucalyptus to the fake gardenias. It keeps people guessing. Below you see artificial tulips with live ferns.
Go pillaging. I have said it before and I will say it again, use what you have. I have done many floral arrangements straight from our garden. You can use shrubs, herbs, grasses, and of course, flowers.
For a recent event, a grad party we hosted for our daughter and two of her closest friends, I knew I wanted sunflowers. Even if we grew them, which we don't, it was not the season for them. However, the grocery store had them for about $1 per stem. The great thing about sunflowers is that the blooms are really large so you don't need so many. I spent about $60 at the Kroger floral department and the rest came from the back yard.
The school colors were crimson, black, and white. So, to create something that went with that I used branches from our lorapetulum bushes. Hydrangeas were in bloom and they were almost white so those were added. Then I filled in with lemon balm, camellia and pittosporum branches. To add a little delicacy and femininity, I used just a few sprigs of pink guara. The result was bountiful, beautiful, and budget friendly.
We hosted another event the next weekend but I wanted the look to be different. I salvaged a few of the sunflowers, removed all the burgundy lorapetulum, and added blue hydrangeas, pink butterfly bushes, and coneflowers. Changing vases also made a difference. The other greenery was still good so I used it. So actually, I did two events for a total of $60. 
At the end of the night, I sent several people home with bouquets. Then I divided the remaining flowers up and made three totally different centerpieces for us to enjoy. That was a lot of value for not much money.
For the first one, I used glass marbles and rocks to hold the stems in place since the bowl was wide and the hydrangea blossoms were heavy.
 I made the second one in a large soup tureen for the formal dining room. 
The third was in my pallet wood centerpiece. Read how to make your own HERE. 
So, the next time you have an event, don't fret over the flowers. Get creative. If you need some tips on cut flower care, read about it HERE.
I would love to see what you create. Share it with me on Facebook or Instagram!