Top Tips and Lessons for Furnishing a Vacation Rental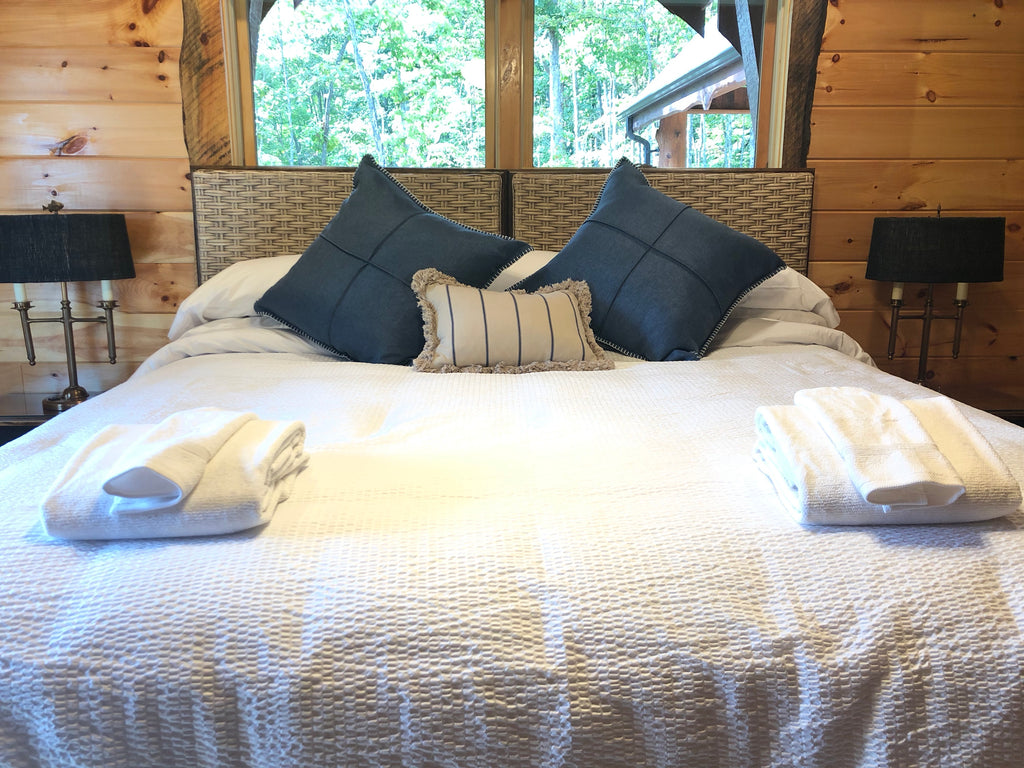 My last blog focused on the process  we have been using to furnish our latest venture, Century View Lodge. As you can imagine, though we did have plans in place, we have had to employ flexibility, persistence, and consistency to get the job done. We have learned a thing or two but also have some tips. Most of these can apply to any decorating job, no matter the size.
Computer Time
One thing I did not expect was the amount of time we would take researching items such as the best mattresses, mattress encasements, hot tubs, xl twin bunks, dining chairs, cookware, etc. We spent hours, and hours, and HOURS online reading articles and reviews trying to find just the right things that were of high quality but wouldn't devastate the budget. So what's the lesson in that? Don't underestimate the time it will take to shop. Even if you have not purchased a property, know what  you want in advance and from where.
Filing
Keep a file with all your receipts, design ideas, warrantees, etc. Even if you don't have time to put things on a spread sheet, just store everything in one place so you can deal with it when you have time. Also, every state has different tax codes so you could benefit in either the short or long-term by having a record of your expenses.
Big Rocks
Get the big pieces nailed down first. We started with the living areas and the mattresses. Even though we ordered the furniture in late June, some things needed 8 weeks of lead time. Covid-19 definitely impacted timelines too.
Dimension and Details
The internet is a great way to buy things except it has its challenges. Thinking about comfort and not dimensions, the biggest, but certainly not the only,  "oops" had to do with our beds. We purchased Saatva 14.5" thick mattresses. Though luxurious, the thickness  actually created a challenge with finding the right size bed coverings. (They are super comfortable though!) Just remember that for every problem, there is always a solution. 
When to Customize
Purchase what you can and save the custom work for things that you just cannot find. Most people do have king beds that can convert into two XL twins. Finding off the rack beds that will work for this purpose is very difficult especially when desiring something of real heft and stature. That's why I had to make one for The Overlook Suite.
Projects vs Purchases
Everyone has limited time. If you are handy, it will be tempting to make things yourself. Really weigh this. If the item will be much cheaper and just as good if made by your own hands, go for it. But if it is going to take tons of time, that needs to be balanced with the cost of just buying. "Your time is worth something too" is my husband's mantra. A compromise, at least in my mind, is to purchase the item in question from artisans. For example, though I am all about making my own throw pillows, I used Etsy to get these unique pieces crafted from vintage Kilim rugs.
 
Permission to Pivot
Don't be afraid to pivot your design. There are almost infinite permutations of colors, patterns, textures, and styles. If you find an amazing deal on a key piece that's too good to pass up, like a rug, but it's not exactly what you originally planned, use that as your inspiration and go for it! 
Painted Wood
Wood is not always sacred. Our house came with an overwhelming  amount of textures and varying tones of wood paneling. Most people coming to the mountains love this but wanting to go a little less rustic we decided to actually take what we inherited and scale it back a notch by using painted wood furniture. We will probably paint some paneling in time as well to make the house a little more modern.
Originality
Don't decorate like everyone else. When we were hunting for our property, we actually saw the exact same painting in two houses.  That's the danger in getting artwork at big box stores. But you don't have to buy originals from galleries. Get creative with other options. Try bartering for art like our neighbor does. Find a  photographer friend and trade time at your place for some great prints then frame them yourself. (That's another blog.) Have your kids get artsy. Abstract work is very forgiving. Remember my barn quilt workshops?  Get out the paints and make one! And of course you can always hang things like baskets, mirrors, maps, fishing poles, or canoe paddles on the walls as art. Check out some of my previous Chics With Tools blogs for ideas.
Durability and Practicality
Put glass on top of night stands and dressers to protect them from wear.
Put good carpet pads under rugs. It helps extend the life of the rugs and gives them a more luxurious look and feel.
Put pads on chair and table legs to protect the floors.
Line drawers and cabinets with nice shelf liner. 
Install drawer and cabinet organizers just as you would at home.
A Cook's Kitchen
Equip the kitchen with things you would want to use. Don't cheap out on knives and cookware. At the same time, you don't need to buy the most expensive things either. It's a balancing act. We sourced things from all over including Williams-Sonoma, Webstaurant,  and Walmart. 
Planned Loss and Breakage
Guests should never be frustrated because there are not enough dishes and utensils. As things break, you don't want to discover that you can't find the same glasses that you bought on clearance so you end up with a hodgepodge of stuff. The best way to solve this is to purchase from a restaurant supply or buy open stock dishes. Just keep the extras back until you need them. 
As we learn more lessons we will share them. In the mean time, we will be knocking out our anxiety-generating to-do list before our first guests arrive September 4th.(Insert scared face emoji)