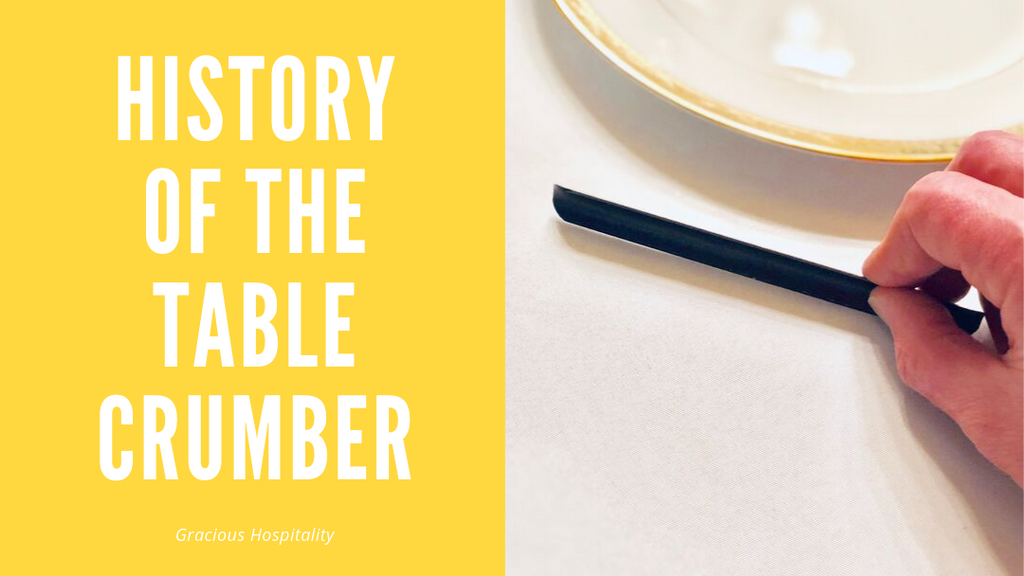 A number of years ago I had the opportunity to go through training on serving etiquette. This was because our consulting group was preparing to surprise and delight restaurant owners by serving them dinner during our annual national meeting.  As part of our training we were each issued a small, gold, pen-like instrument that we were to use to help clean the table linens in between the various dinner courses.  This small instrument is known as a crumber and, since our introduction to it, has become quite a useful tool for us on a number of occasions.
The crumber, also known as a table scraper, was invented in Baltimore by restauranteur John Henry Miller in 1939.  The common method of cleaning fine linen tablecloths between courses was to use a small brush and crumb pan which was often cumbersome for wait staff and intrusive to guests in fine-dining restaurants.  John invented the table crumber to be easy to carry for staff and discreet enough to clear a tablecloth of unsightly meal crumbs that may have spilled onto the table before serving a guest their next course. 
As simple as a crumber is, it serves as a great reminder for us and our family of what generous hospitality is and how going that extra, unexpected, step will help guests feel cared for and special, because they are.  The simple act of tidying the table after a guest has finished eating and providing them a clean place to enjoy their next course or have more conversation can speak volumes of how they feel and the connection they have to you as a host, even if your touches of hospitality are never acknowledged. Hospitality is more than just opening up your home for guests or serving dinner to friends and family.  Hospitality is caring for others in such a way that it feels personal, genuine, and generous. 
Now, so that you are not confused, this is not a message about using table crumbers, but more of a metaphor and challenge to be gracious and generous in your hospitality to others.  Look for ways to go that little extra step to make a guest's experience really special.  The joy, connection, and impact you will have as a result will be well worth any effort you might exert.  For more ideas on how to make your guests feel extra special download the article "Four Keys to Five Star Reviews".