Top Three Super Bowl LIV Recipes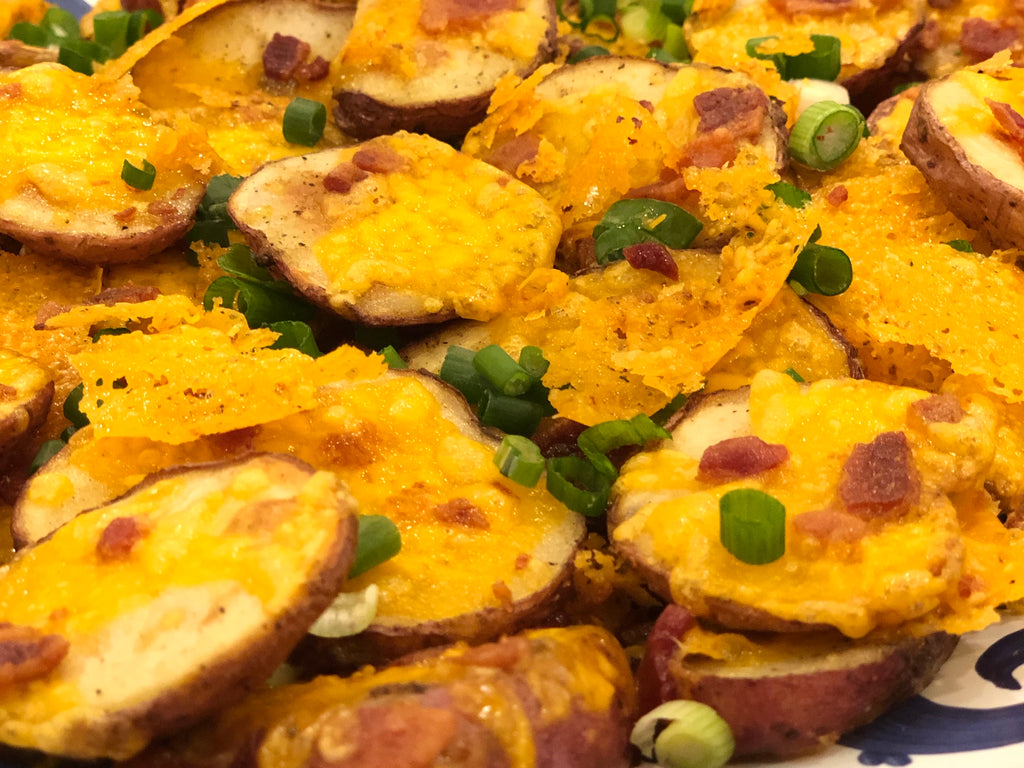 The biggest night in professional football is coming up soon. But the clash of the gridiron Titans  is not the only thing spectators are excited about. In my house, the commercials and half-time show are just as much, if not more,  of a draw than the actual game. But there is one more thing that millions of people look forward to-THE FOOD!
When I think of football games, I definitely don't think of tea sandwiches and frilly toothpicks (not that there's anything wrong with them). So be warned, this food is not dainty (nor low-cal).  This blog is all about some tried and true recipes that have a broad appeal with minimal effort and are SO GOOD!
 If you need some serving pieces, check out what we have for you in Kerith House Home! 
Cheesy BBQ Pulled Pork Dip
Mix together:
4 oz. softened cream cheese
1/3 C sour cream
1/2 t garlic salt
1 C shredded cheddar cheese
Add:
1 1/2 C prepared BBQ pulled pork
Place mixture in a prepared baking dish.
Bake at 350 for 15-20 minutes.
Sprinkle with:
1 C shredded cheddar cheese
Return to oven until cheese is melted.
Garnish with your favorite barbecue sauce, if desired.
Serve with Fritos Scoops.
Original recipe from Corey Valley at  familyfreshmeals.com
Easy French  Dip Sliders
Grease a 9x13 pan generously with unsalted butter.
Keeping them all together, slice horizontally:
1 12-pack of Kings Hawaiian Rolls
Lay the bottom half of the rolls in the pan.
In the following order, layer on top of  the bread:
6 slices of smoked provolone
1 lb Oscar Mayer Slow-Roasted Roast Beef
11/2 C French's Crispy Fried Caramelized Onions 
6 slices of smoked provolone
Top with other half of the rolls.
Mix together:
8 T melted unsalted butter
1 T Au Jus seasoning mix
1 t Worchestershire sauce
1 T toasted sesame seeds
3/4 t garlic powder
1/2 t onion powder
Brush the butter mixture all over the top of the sliders. It's possible that you may only use about 2/3-3/4 of it. 
Bake sliders at 350, uncovered, until cheese is melted, about 15 minutes. Be careful because butter mixture burns easily. 
Meanwhile, prepare remaining Au Jus for dipping (although I don't find it necessary at all).
Once baked, cut sliders apart with a sharp knife. 
These are ridiculous! The combination of sweet and salty, soft and crunchy is amazingly delicious! It will have your crowd echoing my 16 year-old's sentiments, "Why are these so good?!"
Original recipe from chelseasmessyapron.com
Potato Skin Bites
Mix:
1 t salt
1 t garlic powder
1/2 t black pepper
Toss together:
1 1/2 lbs potatoes sliced into 1/4" pieces.
2 T peppered bacon flavored olive oil (or regular)
seasoning mixture from above
Spread pieces in a single layer onto a prepared baking sheet.
Bake at 400 for 30 minutes.
Meanwhile cook and crumble:
6 pieces of bacon
Shred:
6 oz. cheddar cheese
Thinly slice:
3 green onions
Remove potatoes from oven and sprinkle with cheese and bacon. Return to oven until cheese is melted.
Garnish with green onions and serve with sour cream or Ranch dressing.
These are so simple yet so good! I would be surprised if you had leftovers.
Original recipe from Lauren Miyashiro at delish.com