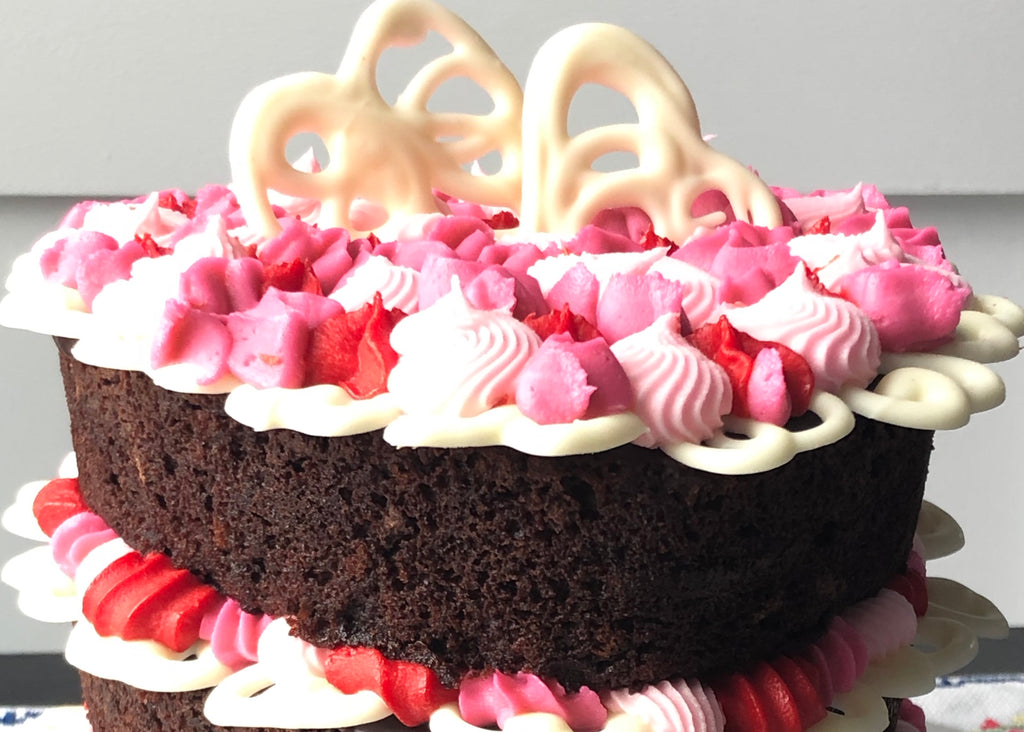 Just in time for the big day, we made Valentine cakes at this week's workshops. We opened them up to kids for a special treat. As you will see, they all did a great job! By the way, you can always schedule a private event if you want the little people in your life to learn how to decorate cakes or cupcakes. 
About The Cakes...
These cuties were made in 6" heart-shaped pans. They feed 8-12 people, depending on your sweet tooth and have five kinds of chocolate in them. YES, I said FIVE! The design is an on-trend look based on a Wilton cake. It looks super-impressive but I think my people will agree, it wasn't difficult.
By the way, if you need a way to display your cakes, take a look at these Galvanized Scalloped Trays. So cute!
Ahead of time, I prepared three layers of our Kerith House Chocolate Cake recipe for each participant. Scroll to the end for the recipe.
At class time, each person covered her cake board with decorative foil, cutting slits every 1/2 inch to work around the curves.
Then we made chocolate ganache with heavy cream, bittersweet,  and semi-sweet Ghirardelli morsels. We then spread it on each cake layer, letting it drip slightly down the sides.
As the ganache was cooling,  we melted Ghirardelli white melting chocolate wafers to make heart decorations. (The key here is to melt the chocolate gradually and to let it cool a little before piping.)
Next, the ladies mixed three shades of reds and pinks. ( If you use butter in your frosting, that will affect the colors, making them all warm. To get the cooler pinks, you have to sacrifice flavor and use all Crisco instead.)
After the white chocolate hardened and the ganache cooled, it was time to assemble, starting with hearts.
On top of the hearts, we piped the three colors, alternating. We repeated this process for the second layer.
The third layer we used the hearts again but changed the tips to add interest. Them we embellished with large hearts in the center.
I love how they turned out!
KERITH HOUSE CHOCOLATE CAKE

In a measuring cup, combine and set aside:
2 C milk
1 T apple cider vinegar
Sift together and set aside:
1 C cocoa
2 ¾ C flour
2 t baking soda
½ t salt
½ t baking powder
In a mixer, cream until light:
1 C softened butter
2 ½ C sugar
Add one at a time:
4 eggs
1 ½ t vanilla
With the mixer on low speed, add flour in four parts, alternating with milk. Mix until smooth. Do not overbeat.
Add:
1 C miniature chocolate chips
Yield: 6-8C, depending on how much you beat it at the beginning.
Pour into greased and floured baking pans lined with parchment paper or cupcake pans lined with wrappers.
Baking: 350 degrees  (convection- 325) except for very large pans.
48 Cupcakes, 11-13 minutes
2- 9" 40-45 minutes
4-9" 20 minutes
9" x 13" 35-45 minutes
Ovens vary, so bake until the center is set and a toothpick comes out clean. The edges will also pull away from the pan.
Let rest for about 10 minutes then turn over on a baking rack, remove the pan and parchment paper and let cool completely.