Melt In Your Mouth Decadence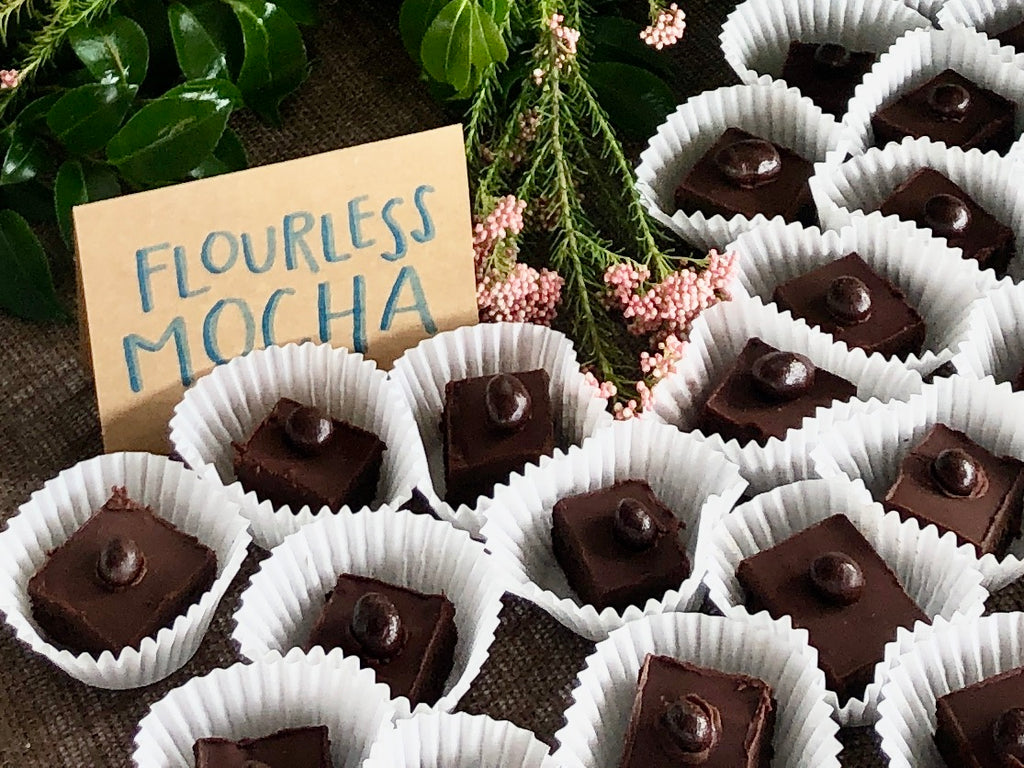 The first of my kids' youth group friends got married this weekend. Sigh… I was commissioned to make the groom's cake which actually was a tower of brownies, five kinds: fudge, mint, German chocolate, peanut butter, and gluten-free! The idea was to make small pieces so people could have two or three. I tested out the recipes ahead of time with the bride's family. They made some suggestions that I implemented arriving at a result that worked well. By the way, we dropped a salted caramel pretzel option because the pretzels went soggy. Who wants a soggy pretzel?
I have to admit, this project stressed me out a bit because brownies can get dry and just be a mess if you're not careful cutting them. I learned some things along the way and they turned out really tasty so I want to share the recipes and tips with you. By the way, since I was making 10 batches total, I baked on one day and froze them on cookie sheets. The day before the wedding I did the ganache and embellishments. 
We have a lot of gluten-free people in our circle of friends so I made something just for them. Two people have already asked me for this recipe so I will share it first. Instead of going the obvious route of alternative flour, I left it out all together and went with a flourless cake recipe. (Thanks Emi!) The original, from Sally's Baking Addiction, called for a mocha whipped cream but I knew that would not hold up at a wedding so I made a mocha ganache instead and embellished it with a chocolate covered espresso bean. You talk about melt-in-your-mouth decadence! Here it is!
Flourless Mocha Brownie
Preheat oven to 350 degrees. If using a glass or dark pan, drop the temperature to 325.
Butter an 8" x 8" pan. Line with parchment paper and butter the paper too.
Fill another baking pan with hot water and place in the oven on a low rack.
Batter
Melt slowly in the microwave or double boiler:
½ C unsalted butter
6 oz semi-sweet Bakers chocolate, chopped
Mix until smooth
After mixture cools for 2-3 minutes, whisk in:
2/3 C sugar
2 t espresso powder
1 ½ t vanilla
Add:
4 eggs (room temperature)
Whisk in:
1/3 C unsweetened cocoa powder
1/8 t salt
Pour batter into prepared pan. Place it in the oven above the pan of water. This creates a steam oven.
Bake for 25-30 minutes. You don't want to overbake this. It should be set in the middle.
Remove from oven and let cool for only 10 minutes. Invert it onto another pan or plate and let cool completely. At this point you can freeze it if baking way ahead.
Ganache
Melt:
½ C unsalted butter
200 g semi-sweet chocolate chips
1-2 t espresso powder (to taste)
Mix until smooth and shiny.
Pour onto completely cooled brownies. They can be frozen.
Cutting
The most tedious part of this whole project was cutting the brownies. Still firm from the freezer,  I used a sharp knife, pitcher of warm water, and lots of paper towels because after EACH slice, I had to clean off the blade. But it was well worth the effort.
For a more casual affair, another cutting tip is to use a plastic knife, as in the disposable picnic variety. (Thanks Luann, via Susan!) The brownies don't stick to the plastic the way they do to metal so you get a cleaner cut. Amazing!
Embellishment
Finally, I added the detail of a chocolate covered espresso bean to the top. Not only did this add interest but it was practical. It kept the ganache from getting marred when I stacked them. Then I packed the brownies in plastic tubs in two layers with wax paper. I put a piece of foam board between the layers, which rested on the beans.
Display
At the venue I displayed the brownies in cupcake wrappers. Doing that earlier could have made the wrapper oily.
By the way, if you want to leave out the mocha, serve these with a drizzle of raspberry jam and fresh berries. Divine! I will share the other recipes in subsequent posts.
Enjoy!