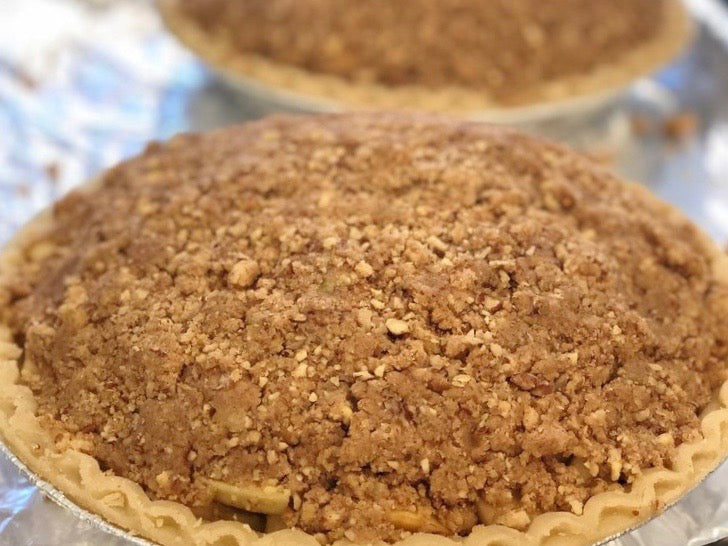 I don't often make apple pie but when I do, there is no other recipe to reach for than this one. It has it all; apples, of course, but then a crunchy topping with pecans, and caramel inside and out as a great bonus.
The recipe came from a cookbook we got for our wedding shower from my husband's Sunday school teacher when he was three. So sweet! The title page reads: "Augusta Cooks for Company , a Collection of Recipes Collected and Compiled by Jeanette Steed for the Augusta Council of the Georgia Association for Children and Adults with Learning Disabilities Featuring Historical Augusta and Favorite Recipes of Families and Friends, Treasured Recipes of Yesterday and Today". In other words, it is full of tried and true recipes used by real people. Let me tell you, these books are often filled with culinary gold and this one is no exception.
Here is the recipe:
Crunchy Caramel Apple Pie
1 9" unbaked deep dish pie crust
Filling
Melt  on low heat and stir almost constantly, being careful not to scorch:
16 caramel squares
1 stick butter
1/3 C milk
Set aside.
Peel and slice:
Place half of the apples in the pie shell.
Pour half of caramel sauce over apples.
Place the remaining apples on top followed by the remaining caramel.
Topping
In a food processor, combine:
1/2 C flour
1/3 light brown sugar
1/2 t cinnamon
Add and pulse until it looks like uniform crumbles:
Add and pulse a few more times.
Sprinkle the topping over the filled pie. Line a cookie sheet with foil and place pie on top. This is really important because there is a lot of butter in the crust and as it melts, it drips. You don't want a smoky apple pie. Bake at 375 degrees for 40-45 minutes or until apples are tender.
Serve with vanilla ice cream and more caramel sauce. DELICIOUS!