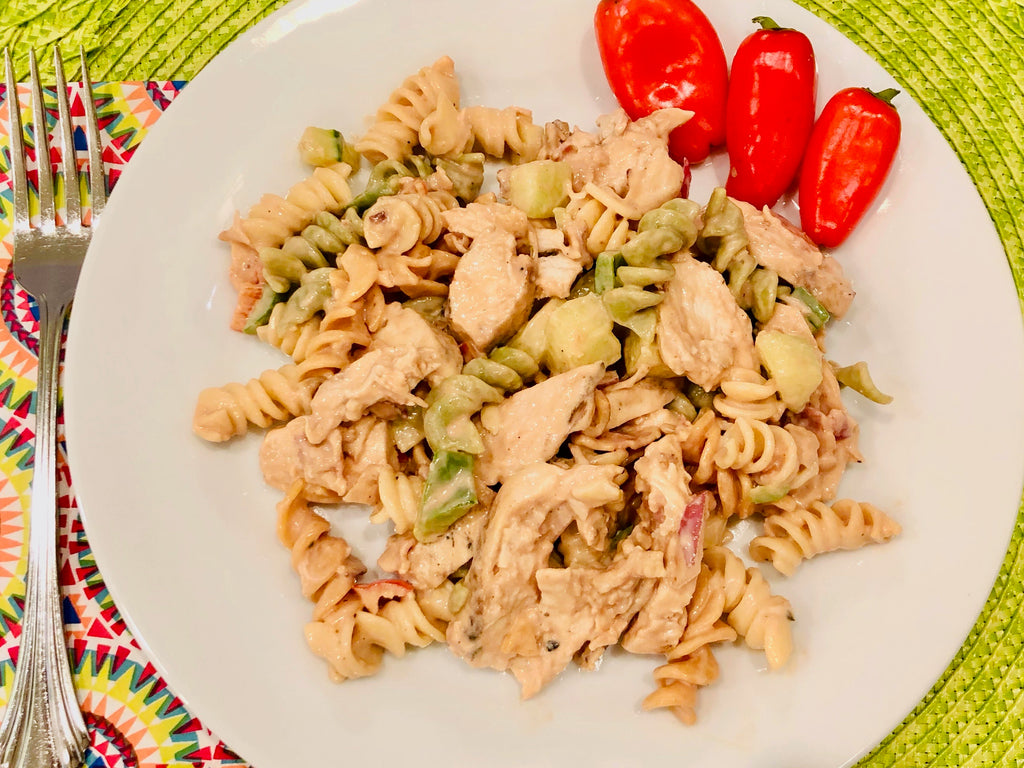 Do you ever have those days when you know there won't be a spare moment to make dinner but you are trying to avoid take-out? I have a great option for you but you do need to plan a little ahead.
I found this recipe for Midwest BBQ Pasta Salad decades ago. What I love about it is that it's a one-bowl meal and can be served straight from the fridge. It's got protein and veggies and you can adjust the quantities of either to your tastes. Did I say that it's delicious?
I made this last week when I needed to leave my kids with friends so I offered to contribute dinner. Since I wasn't going to be around to prepare it on the day, I did everything in stages in advance. Even with the fresh veggies, it lasted for a few days in the refrigerator without getting soggy! I hope you enjoy it!
Midwest BBQ Pasta Salad
1 lb cooked multi-colored rotini, rinsed, drained, and cooled
2 C cooked chicken, chopped
8 slices cooked bacon, chopped
1/2 C bell pepper, chopped
1/2 C green onions, minced
1/2 C red onions, chopped
1 cucumber, peeled, seeded, and diced
1 C ranch dressing
3/4 C barbecue sauce 
Place all ingredients in a large mixing bowl and toss to combine.
Serve with Parmesan cheese.
Tip 1:For a simplified version, use any leftover pasta and raw veggies.
Tip 2: To prep days ahead, here are the steps:
Cook pasta
Cook chicken
Cook bacon
Chop veggies
Mix together sauces
The result? So simple and so good!