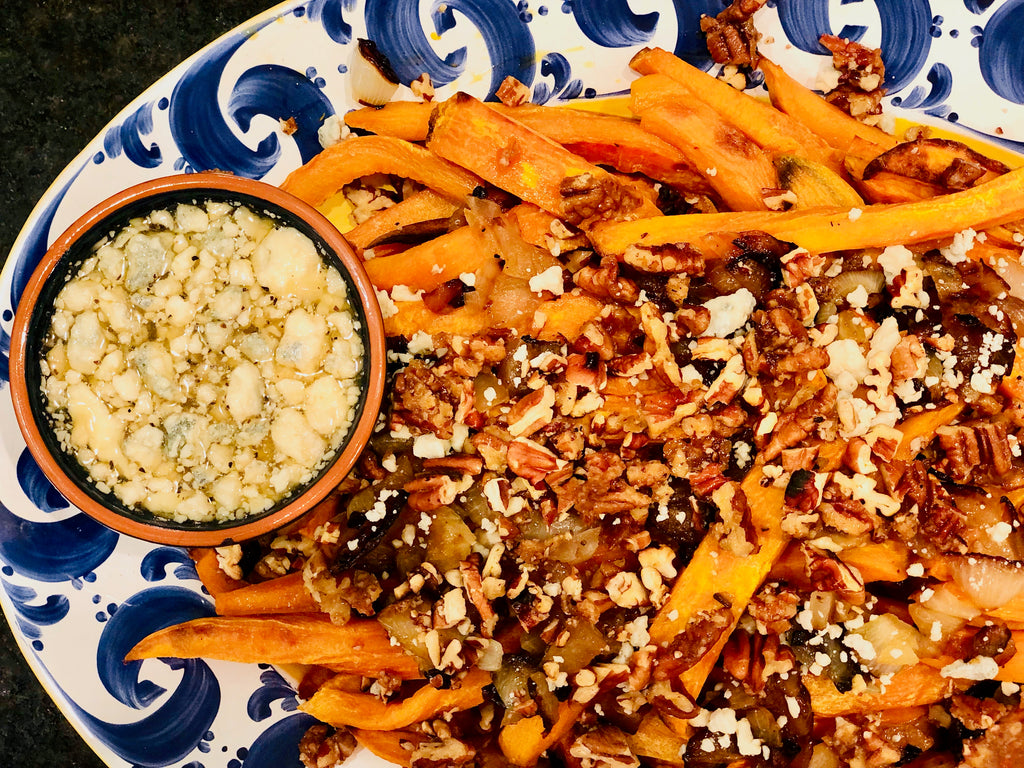 Are you a sweet potato lover? I love them in all forms, simple or embellished. I found this Better Homes and Gardens recipe about nine years ago and it has been a favorite ever since. I have to admit, it's not for everyday because it takes a little more effort than my usual Monday-Friday faire. But it is so worth it and definitely good enough for company. Of course, you need to love the over-the-top ingredients: blue cheese and candied pecans. Are you game? Here we go!
Sweet Potatoes with Pecans and Blue Cheese
The Veggies
Preheat oven to 375 degrees.
On a jelly roll pan (a cookie sheet with sides) toss to combine:
2 large sweet potatoes, peeled and cut into lengthwise wedges
1 small sweet onion, cut into 1" pieces 
2 T olive oil
1/2 t salt
1/4 t pepper
Spread them in a single layer and bake for 30-35 minutes or until the veggies are tender, stirring once.
The Brittle
Meanwhile, in a skillet, melt butter over medium heat. Stir in:
1/3 C pecan pieces (more if you want to snack on them)
1 T brown sugar
1/4 t salt
Cook and stir for 2-3 minutes until the pecans are coated in the melted brown sugar mixture. Remove from heat and immediately spread out on a piece of foil to cool completely.
The Dressing
In a small bowl, whisk together:
4 t cider vinegar
1 1/2 t honey
1 clove garlic
1/4 t salt
1/4 t pepper
1 T crumbled blue cheese (or substitute cheddar)
To Serve
Transfer sweet potatoes and onions to a platter. Drizzle with the dressing and sprinkle with the pecans and remaining:
 Serves 6
This is fabulous with Sherry-Soy Salmon !
If you like a more traditional take on sweet potatoes, check out my blog:
Mama Sheila's Sweet Potato Soufflé