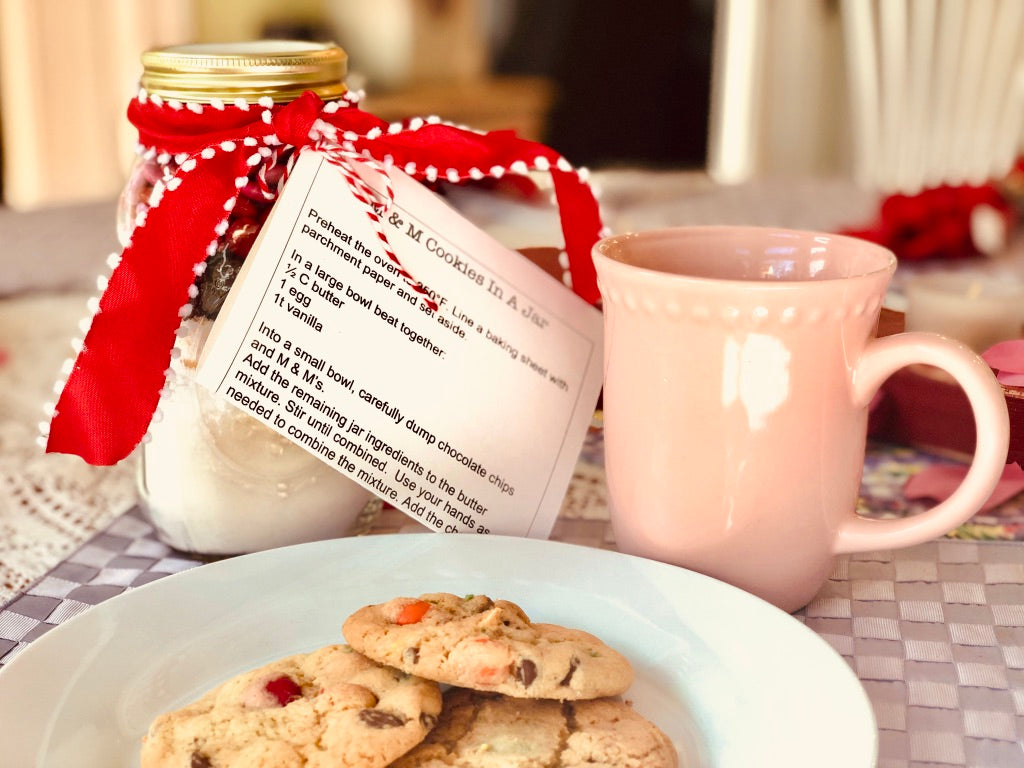 Have you ever seen those cookie mixes in a jar? Maybe you have received one or given one yourself? Last year one of our kids made one in school. I have to admit that I was amazed at how delicious the cookies turned out. I was so impressed that we have been using the recipe to put in our gift baskets at Century View Lodge. 
What makes this recipe for M & M cookies so good is that it uses semi-sweet chocolate chips AND a good amount of America's favorite candy. If you are making them at Christmas, Valentine's Day, or Easter, you can use the seasonal colors making them extra festive. So without further ado, here you go.
The Recipe...
M & M Cookies In A Jar
Start with a very clean quart-sized canning jar. I prefer the wide-mouth variety but the standard one works fine.
Layer the following ingredients in order.
1 1/2 C flour + 1 T (188g)
3/4 t baking soda
1/2 t salt
1/2 C packed light  brown sugar (107g)
5 T granulated sugar (63g)
3/4 C semi-sweet chocolate chips
3/4 C M& M's (more or less to fill the jar)
That's it! Almost....
Print out the instructions to make the cookies.
M & M Cookies In A Jar
Preheat the oven to 350°F. Line a baking sheet with parchment paper  (optional) and set aside.
In a large bowl beat together:
½ C butter
1 egg
1t vanilla
Into a small bowl, carefully dump chocolate chips and M & M's.
Add the remaining jar ingredients to the butter mixture. Stir until combined.  Use your hands as needed to combine the mixture. Add the chocolates.
Refrigerate for at least 15 minutes for thicker cookies.
Scoop the dough onto the pan using a large cookie scoop (or about 2 T).
Bake for 10-12 minutes or until the edges are slightly crisp, yet still soft in the middle. Remove from pan to cooling rack.
                                                                        ENJOY!
 One Last Thing.......
Now to add some cuteness, decorate the lid of the canning jar with paper, fabric, or stickers and add a ribbon, twine, or raffia to finish it off. Don't forget to tie on the instructions!