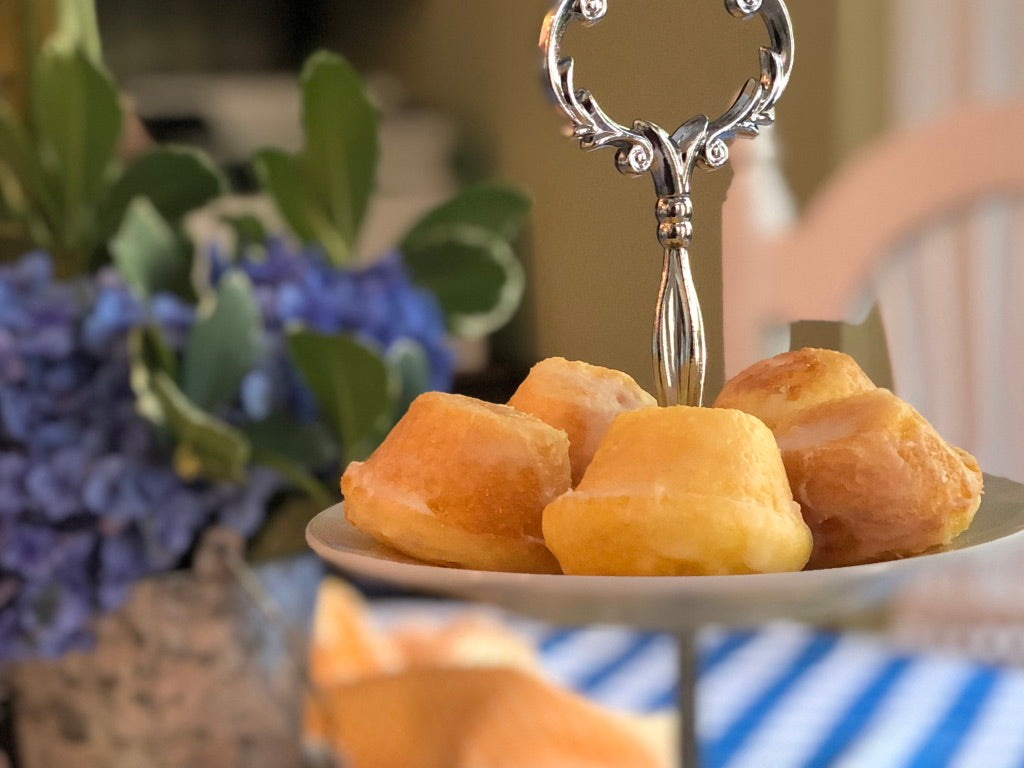 When was the last time you ate something that took you by surprise in a really good way? Well, that happened to me recently when I hosted our garden club meeting. I had lots of great helpers and cooks that day, Connie, Peggy, Ginger, and Yvonne. By the way, this is the same group that brought us Grits Angela. But I am writing today about the cupcakes Juli brought. 
Originally these were Orange Blossoms but morphed into a lemon version as Juli combined a bunch of recipes then renamed this one, Lemon Florets. Sorry Juli, I have to change that to what these really are, Lemon Clouds. I was amazed at how these melted in my mouth and had just the right, refreshing punch of lemon. To make them look even prettier, we served them on one of my Three-Tiered  Server/Cake Stands. So straight from the Merry Weather County Garden Club, here are ....
Juli's Lemon Clouds
Preheat oven to 350 degrees. Spray miniature muffin pans with nonstick baking spray (Bakers Joy works well). 
The Cake
Combine and beat for 2 minutes:
1 (18.25 oz. box) Lemon cake mix ( Duncan Hines is a good one)
1 cup sour cream
3 large eggs
3/4 cup vegetable oil
Fill each muffin tin with about one tablespoon of batter and bake for 12 minutes.
Empty onto a towel.
The Glaze
Sift:
4 cups confectioners' sugar
Add and mix until smooth:
3 tablespoons vegetable oil
1 tablespoon lemon zest (about 1 lemon)
1/3 cup fresh lemon juice
3 tablespoons water
Drizzle the glaze over the cakes or dip them into the glaze while they are still warm, covering as much of the cake as possible. Place cakes on a wire rack with wax paper underneath to catch the drips. Allow glaze set then store in an airtight container.
Variation
For a super simple cake version of this recipe try Sandra Lee's Almost Homemade Pound Cake. It uses the cake portion of the recipe above with Duncan Hines Golden Butter Cake Mix instead of Lemon Cake mix.  Pour batter into a decorative bundt pan, bake, cool, and store in an air tight container.  This lovely cake seems to moisten more day by day. It works to double wrap and freeze it too.
Giving Credit Where It Is Due
"Alice Redding is a retired local cake designer/caterer in the Fairburn, GA area. She is a lovely Southern Christian lady turning 95 August 2022. She's been a second mother to me since I was nine. She's also my inspiration for baking and inviting food presentation.  Her angel biscuits, chocolate pound cake, and of course, her orange blossoms are heavenly!"-Juli
Paula Deen's Lemon Blossom Recipe can be found at Crazy About Cakes