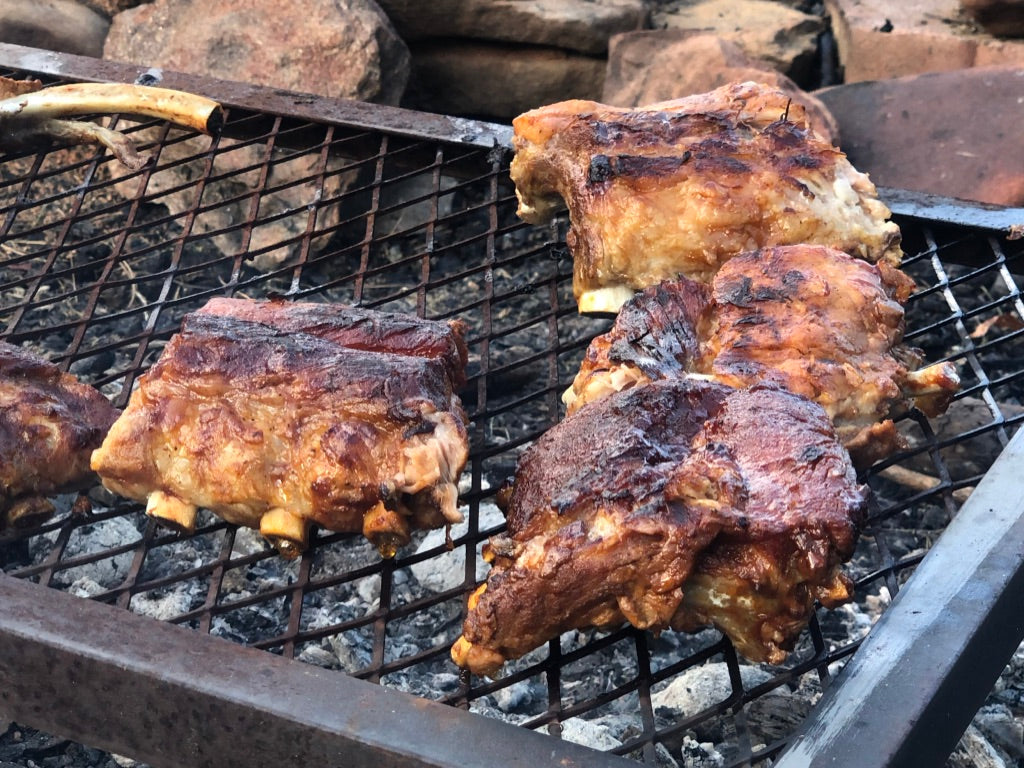 Have you ever had the situation where you wanted to make something but forgot to thaw it or didn't allow for enough cooking time? Or maybe logistics were the issue? Well, all three of those were true for me a couple of weeks ago.
When we work on our farm in Blue Ridge, since we stay in our Airstream, it is always handy to have sort of ready-made meals or something that will make minimal mess and take little prep. On a recent weekend, I had some ribs in the freezer but didn't think about using them until my thawing time was short. Also, ribs take HOURS to cook to get them to that  fall-off-the-bone stage. In addition,  I needed to take the food to Blue Ridge. A handy appliance came to the rescue and we ended up with a great dinner. Here is how I solved all three challenges.
TRAVELING RIBS
Ingredients
2 racks of spare ribs
Dry rub
Barbecue sauce
Equipment
Instant pot
Grill or fire
Cooler
Foil
Instructions
Thaw ribs for as long as possible.
Cut the racks into four equal pieces.
Cover all the pieces with dry rub.
Put the metal rack in the Instant Pot with about 1/2 C water.
Place the ribs vertically in the pot. This allows for them to cook more evenly.
Set them to pressure cook for 30-35 minutes.
When finished, release the pressure. If they are not already falling off the bone, add more time.
Cut 8 pieces of foil large enough to hold one section of ribs. 
Spread barbecue sauce on each piece of foil, lay a section of ribs on it, then smother the ribs in sauce. Wrap them tightly.
Line a cooler with towels. Place the foil packets in the cooler.  These can keep for several hours.
When you get to your destination, you can throw your packets on the fire or put them in the oven.  But to get the flavor and caramelization, unwrap them and put the meat right on the grates. Since the ribs should already be cooked it's just about  looks.
Baste with  more sauce. 
YUM!
If you want a great side dish for your ribs, check out my Macaroni and Cheese Recipe.