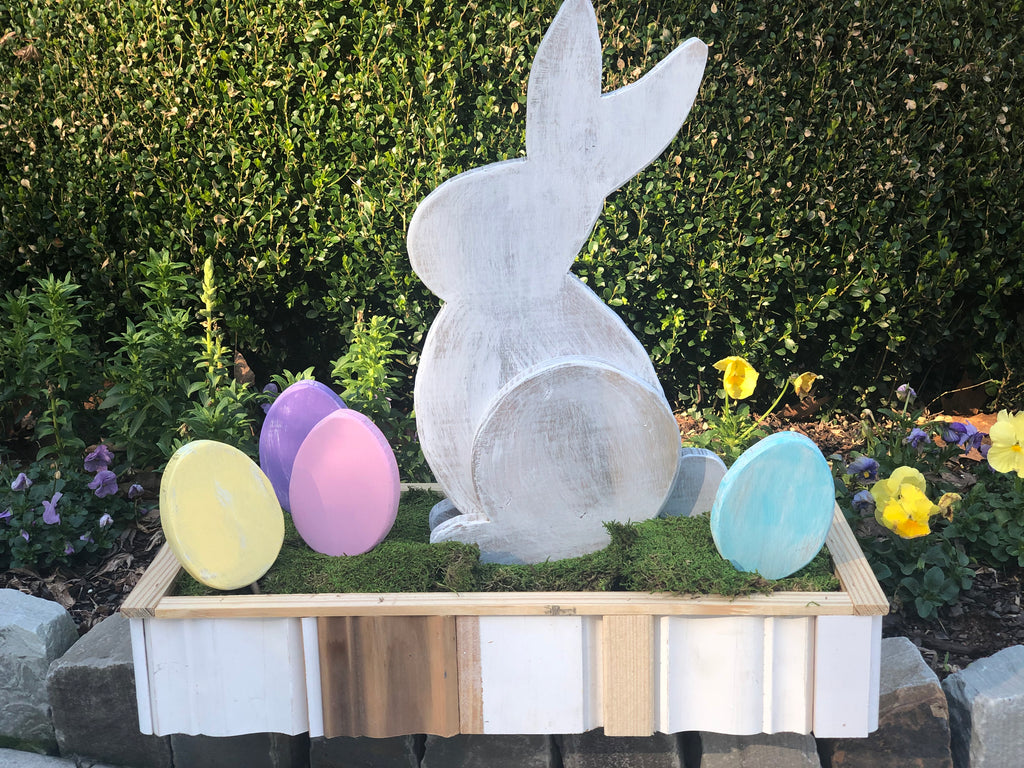 This whole Easter Bunny thing is kind of crazy if you stop to think about it. I remember the first time I saw the Cadbury Bunny clucking like a chicken. I think I was in college and my sister and I were watching TV. Maybe we were just overly tired, but we could not stop laughing at a clucking rabbit. 
Well, this bunny doesn't cluck but it is super cute. These were a Chics With Tools Workshop last year and thought I would show you how we made them.
MATERIALS
1 1" X 10" X 6' board
Stain
Paint
Brushes
Dowel rods cut to about 3"
Drill
Glue or nail gun
STEPS
Make a pattern. I looked at a bunch of clipart then made my own pattern. I wanted the bunny to be able to sit without assistance with chubby hind legs. For that you need a main body, hind legs, and an egg.
Cut the pattern out of poster board or card stock.
Trace the pattern onto the board. Be sure to do two hind legs and at least four eggs.
Cut the pieces out with a band saw or jig saw.
Sand the rough edges and round them over a little.
Stain each piece. This is sort of a base coat.
With white paint, dry brush all of the pieces on all sides. You do this by having only a small amount of paint on a totally dry brush. Rub any excess paint off on a piece of paper or scrap wood. Then loosely brush on the wood.
If you have an area that is supposed to be rounded, brush in a circles, following the contours of the piece. This is especially important on the thighs of the bunny.
Continue using the dry brush technique and paint the eggs. If desired, add some shadows and highlights to make everything seem more three-dimensional.
Drill holes in the bottoms of the eggs. Doing the same in the bottom of the bunny is optional.
Line up the main body with a board topped by one leg. The point here is that when assembled, you want the piece to stand on its own without wobbling.
Either glue or nail it together. Turn it over and repeat with the other leg. 
If you want the bunny and eggs to be one unit, attach the eggs to the body of the bunny and each other. 
If you want to display yours in a container, do the following:
Fill your container with floral foam.
Add the dowel rods to the eggs ( and bunny).
Put bunny and eggs in the floral foam.
Cover the oasis with green or Spanish moss.
Display these cuties on the table, sideboard, front door, or fireplace and enjoy!
So as you can tell, these are not complicated nor expensive. Give one a try and when you do, show me on our Facebook page.
 By the way, these would look great in our Triple Brick Mold.