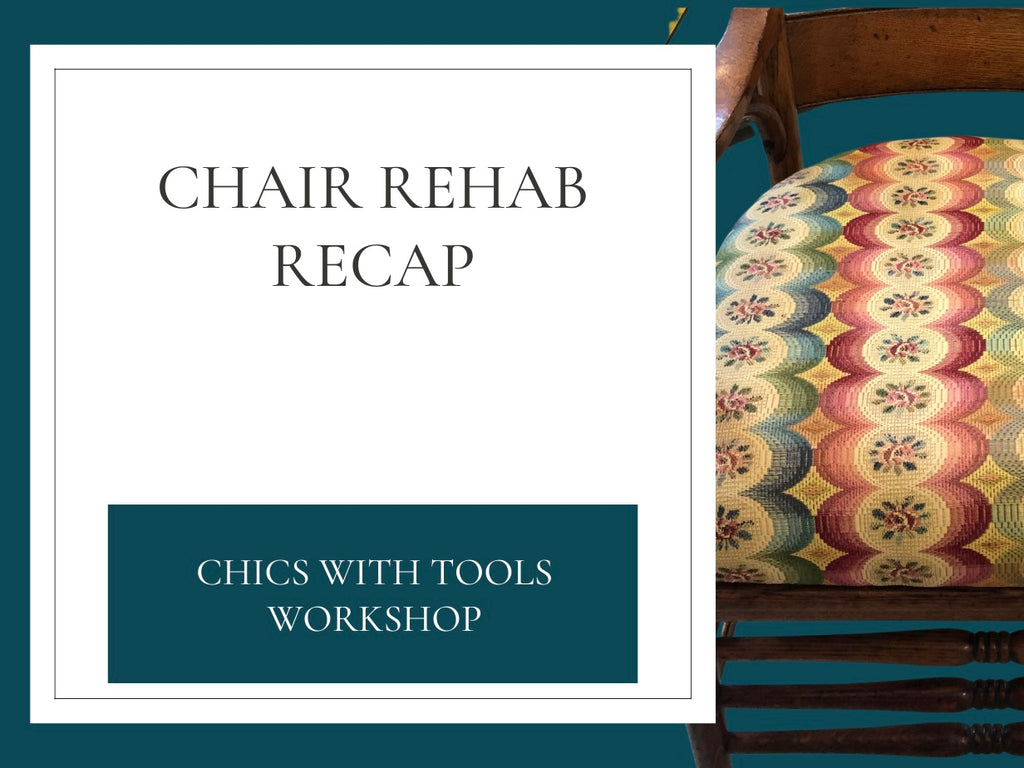 Do you have a chair or set of chairs that REALLY need some help? I seem to be a magnet for "chairs with potential". Not too long out of college I bought two three-legged chairs. I took the leg from from one and put it on the other. I revamped the chair that now had four legs (and still have it) but the poor two-legged thing languished in storage for years. I even bought a couple of extra legs to fix it but never got around to it. In a purging when we first got married, it went to a better place. Sigh. Chances are, if you are reading this, you are a project person and can totally relate to that. 
Well, Saturday, a group of ladies gathered in the Chics With Tools Makery to take care of some of their beloved chairs. Two wanted to do all of their dining chair seats and two needed to give new life to antique pieces, one of which came from a dumpster. LOVE IT!
We all learned a few things along the way. Each piece required something different. Scroll down to see some of the tools and techniques used to make the chairs really shine.
First chairs needed to be stripped down. A tack puller came in handy.
You often have to take off a lot of yuck to get to the good stuff.
We used an electric carving knife  to cut foam for a new seat cushion.
 Under the pealing varnish was a very cool patina. All it took was a bit of sanding.
Things got fun when we got to break out the big tools. In this case we used a jigsaw and circular saw.
All these dining chair seats needed was some batting and fresh fabric. To make life simpler, she chose a solid. That way there was no pattern to keep straight.
The pneumatic staple gun was the tool of the day. It's magical!
This proud Chic With Tools managed to finish four dining chair seats!
No one really wanted this chair. But now it's going to be the favorite seat at the table!
This dumpster treasure turned out to be so chic! We love the weathered patina and now that it has a completely new seat, it will be the star of the front porch!
If you want to see what we accomplished at the first Chair Rehab Workshop,
click here!
If you have an upholstery project you would like to tackle, reach out! Padded headboard? Large bench? Ottoman? Let's get it done!