Chair + Palette Wood + Vinegar= Headboard?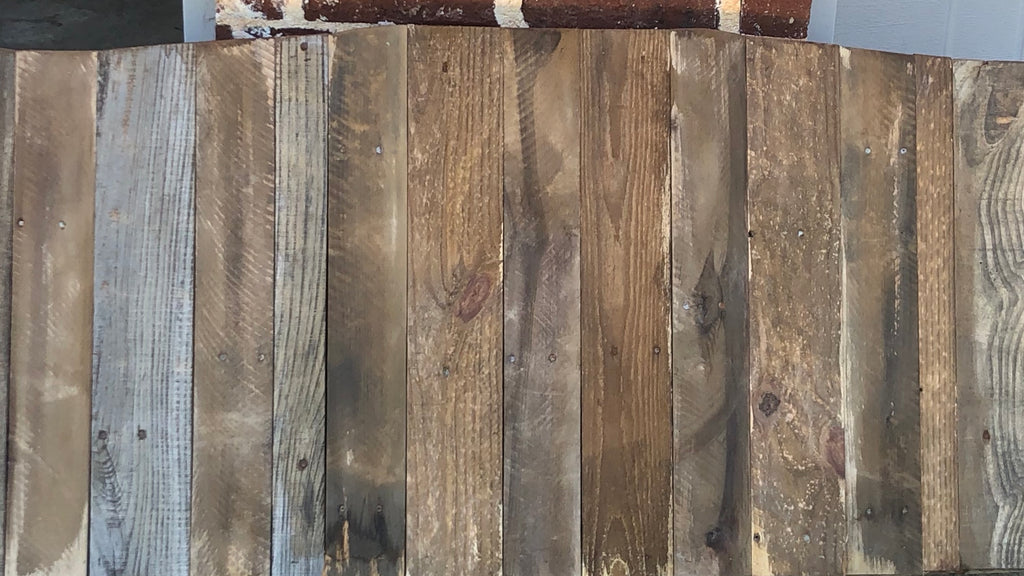 In a previous post I talked about my overwhelming compulsion to use up scraps. Here is a project that I had been contemplating for almost a year but finally did. It started with a patio dining chair that broke last summer. I kept the sides thinking they could make something cool, even if just a wall piece. But with all the palette wood I still had in the garage, it seemed that combining both things would make for a great headboard. So a few weeks ago, in hope of a quick and simple project, I made it.
Construction took about two hours. It included adding a small connecting piece to make the headboard into a queen-size and attaching some supports to make it more rigid. Each piece of palette wood was cut individually to fit the curves. The bandsaw came in handy for this but a jigsaw could do the trick. Finally everything was nailed into place and that was it!
The wood had a lot of variation, which I liked, but some pieces looked too new. So I made a brew of steel wool, vinegar, and water. I kept it in a jar for a few days. The longer it is left, the darker it becomes. Then I just brushed it on. You don't see it darken on contact but pretty quickly the wood reacts and it gains a patina. Below left shows immediately after I applied the brew and below right was just a few minutes later.
The finished project is rustic but the gentle curves make it graceful.
You may be wondering how the headboard attaches to the bed. Well, it doesn't. It attaches to the wall with these hanging cleats. You still need to use wall anchors or attach them with longer screws into the studs but I think they are pretty slick.
So here are some takeaways from this post:
The next time you have a broken piece of furniture, rethink how it can be used.

Use steel wool and vinegar to age wood.

Try these cleats for hanging heavy pieces to the wall.
You never know what you achieve with a little ingenuity!