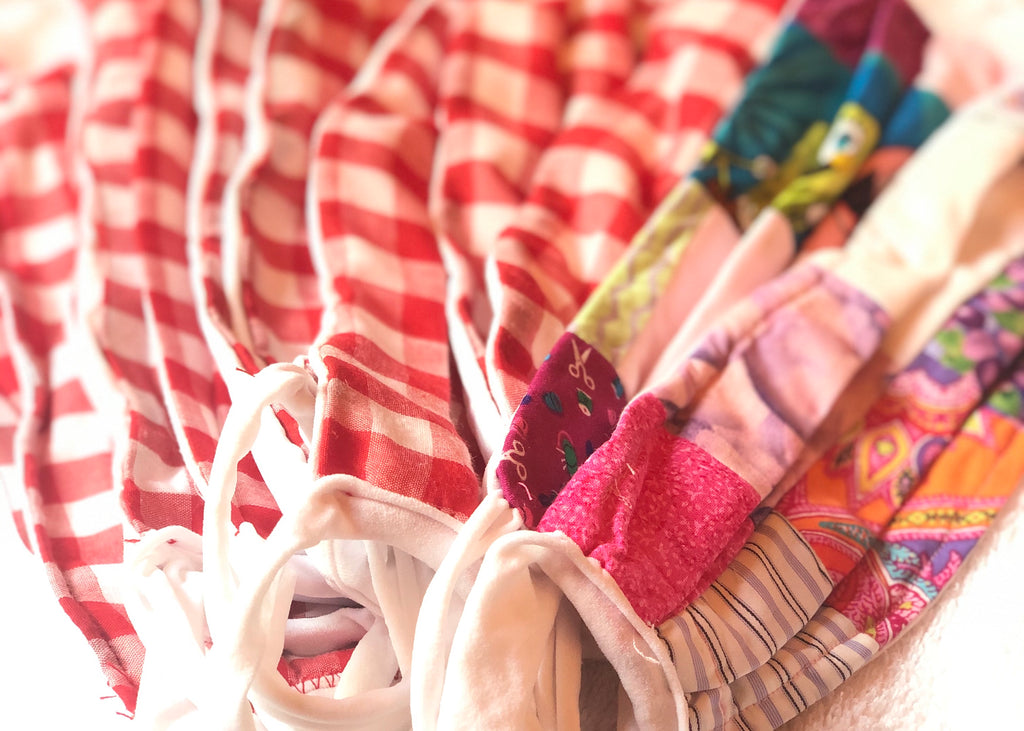 This strange time we are all experiencing has brought about needs and industries rarely thought about. Take masks, for instance. It's possible we will need to wear them for months to come. Hopefully not, but they are a necessity for a while anyway. 
A few weeks ago I answered to call to make some so I did. But more recently I learned that more people needed some so I headed back to the sewing machine. At the time, Hobby Lobby was closed and Walmart's fabric department had been wiped out. Joann's was so overrun that you couldn't get things in a timely manner so that meant I needed to get more creative, using tights instead of elastic. I spent  hours of going through different design ideas and made five or six prototypes.
I finally landed on one that requires sewing but relatively speaking,  is a simple and quick method. If you find yourself in need, here is how you can make your own.

Materials:
1 6" x 10" cotton fabric for the outside (Checks and stripes work well because you    can use them as sewing guides.)
1 6" x 10" cotton fabric (it can be anything like an old sheet)
tights (or elastic)
1 pipe cleaner
Process:
Place fabric pieces on top of each other, right sides together. 
Lay the pipe cleaner I/2" from the top long edge of the fabric. 
Zig-zag over the top all the way down the length of the pipe-cleaner. 
Sew the other long sides together.
Turn the fabric right-side out. 
Pleat the sides in two places. Checks come in handy for this. Stitch on top 1/4" from the edge to keep them in place.
Using the legs of a pair of tights, cut two strips about 1 1/4" wide.
Wrap each strip around the pleated edges and stitch.
If the mask is too loose, sew a button on the bottom edge of each side. Users may wrap the ear straps around the buttons to tighten them.
Here are two of the recipients of the masks, medical workers at a local neurology practice. Thanks for being on the front lines, ladies!