From Tatty, to Regal, To Whimsical-The Metamorphosis of a Caned-Back Chair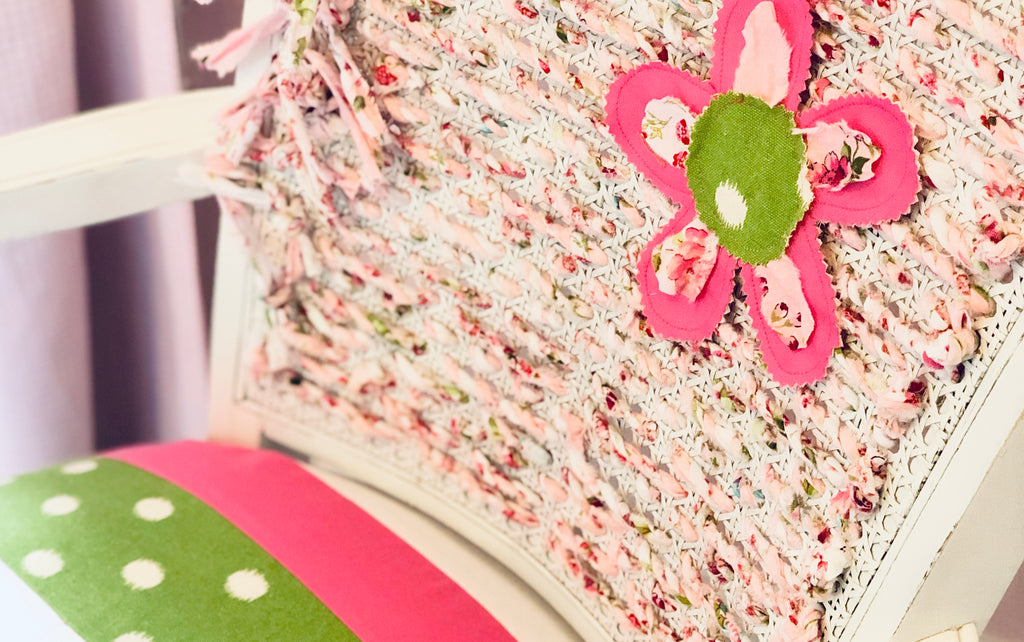 Chairs have a lifecycle just like living things. They start off fresh and new but then something happens along the way. Fabric gets torn, stained, or just outdated, cushions disintegrate, joints get loose, and finishes become marred. But if something has good bones, it is totally worth saving from the dumpster. 
Those who have been following me from Day 1 may remember that I picked up a tatty chair over a year ago. I needed something to become a throne for my daughter who was going to be Queen Elizabeth 1 for her 4thGrade Wax Museum project.
The thing about making objects for the "stage" is that they don't need to hold up for the long haul and they won't be scrutinized closely. As a friend taught me in college while we were sewing costumes, "No one will notice on a trotting horse".  So, the second incarnation of the caned-back chair was a gilded throne, with hot-glued upholstery and embellishments, almost entirely sourced from Goodwill.
After the Wax Museum, I promised that the chair would get a new life. I went around and around about what I wanted to do. The caning had a hole in it but I didn't want to repair it in the traditional sense. I thought weaving something through it would be whimsical and unique. But even with that idea I could have gone a hundred directions.
My plan finally came together when I saw a YouTube video of someone making rope from scrap fabric. You know I love using up scraps. I also felt like a feminine shabby-chic look was the way I wanted to go. Fortunately, with all of the leftover fabric in my Makery, I didn't need to buy any upholstery.
Before I go any further, let me give you a tip: count the cost. This chair was less than $3 to start. But because it was in such bad shape, I replaced the webbing ($10) and the seat foam (over $30). Then there was the paint. The brush-on variety would have been the most cost-effective but I wanted to try a new chalky spray paint. Including primer, that was an added cost of $12. So now my $3 chair was already a $55 chair and that did not include any time investment, which was considerable. BUT, if you have a beautiful chair that needs some love, I still would recommend doing this. For details, check out my video on YouTube:  https://www.youtube.com/watch?v=bZ14CC-OaYU&feature=youtu.be
THE PROCESS
 Frame Prep
Strip off old fabric and remove staples and tacks.
Remove unusable foam, batting, stuffing, etc.
Lightly sand frame to prepare for paint. Fill any holes. If it just has some nicks and you want to keep the wood finish, try Old English Oil. It works wonders!
Prime the chair. If using spray paint, do several light coats, never a heavy one or the paint will run.
Paint the chair.
The Seat
Using webbing, weave a seat, stapling onto the chair frame. Use a webbing stretcher if you do not have good hand strength.
Using aluminum foil, make a pattern for your seat. Transfer that to your high density foam.
Cut the foam with an electric carving knife.
To make the cushion less boxy, bevel the edges.
Add a layer of quilt batting

 

to smooth out the surface.
Lay your upholstery fabric on top.
Using a staple gun, put a staple in the center of each side while pulling fabric tight.
If your chair has arms and/or curves on the front and back, work on the sides first, then the front and back. Pull the fabric taught, working out from the center.
Do the corners last.
Trim chair using hot glue or fabric glue.
The Back
Make rope from scrap fabric. (Very Martha Stewart and definitely optional)
Use handmade rope, fabric or leather strips, or thick yarn to weave through caning.
If there are any holes, make two identical embellishments for each one from coordinating fabric.

Glue embellishments to caning on the front and back to cover the holes.

Add trim to the back, if desired. 
The Result
The final product is definitely one of a kind. It is fun, creative, tactile, cute, and a little quirky.  No, it's not everyone's taste, but then again, what is? Home décor projects should be personal. Do your own thing!