Helping Family Members Downsize- The Garage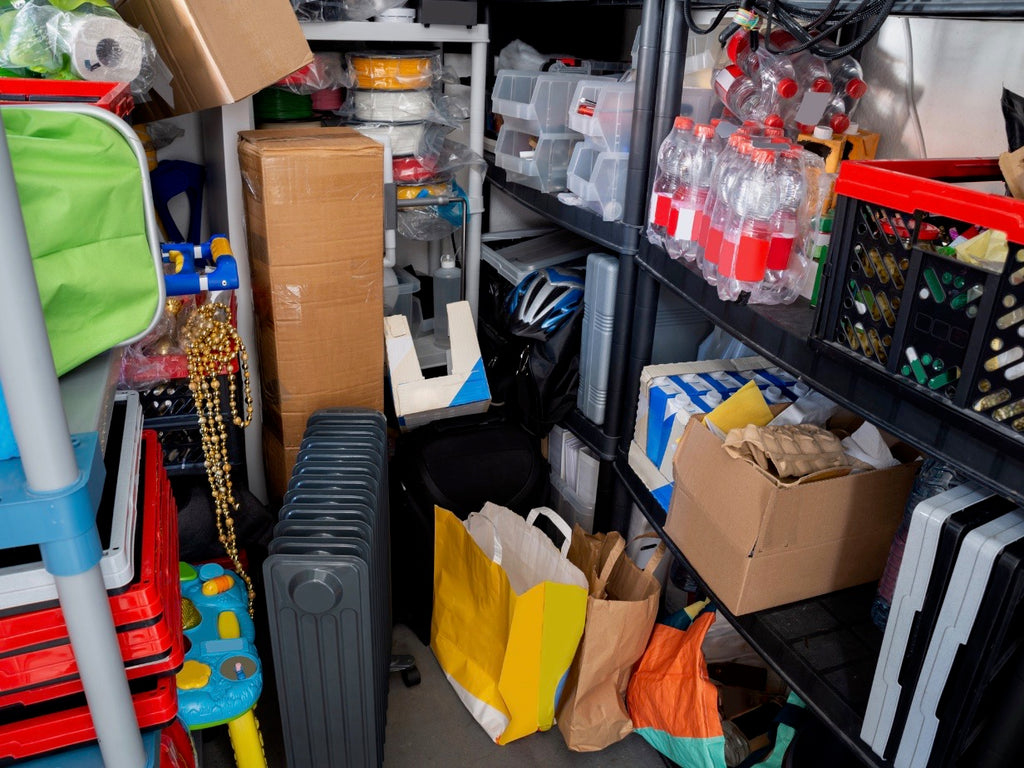 Does the idea of dealing with an excess of STUFF stress you out? This can be especially daunting when said stuff is not actually yours. My dear mom passed away last year leaving my dad in our childhood home loaded with memories and 66 years-worth of accumulation, 45 of them being in the same house. A few years ago, they had started the process of purging but declining health had prevented real progress. They needed some fresh eyes and an infusion of energy.
Someday we all will probably have to help family members downsize or do it ourselves. This post is the first in a series of what I have learned in helping my parents. These principles also apply to moving or a good spring clean-out.
But first……. 
ALWAYS REMEMBER:
The inventory belongs to the homeowners which means that they have the right to dispose of whatever they want in whichever way they want. This includes you if it is your house. Don't let your possessions become a burden. They are just things. Keep only what brings joy. (Thanks Marie Kondo.)
A very important disclaimer: All of this work was done with my Dad and we have similar philosophies of what to keep and what to pitch. We work great together.
PROJECT # 1-THE GARAGE
Dad had always dreamed of a super organized garage with a place for all of his tools and at least one car. When we were all living at home, that wasn't possible because as soon as he would get something cleaned up we would take over with some massive school project or one of us would bring all our stuff home from college, and so on. (FYI: The cover photo is NOT Dad's garage.)
After we left home, the garage got taken over by the bounty from trips to Sam's and Costco plus Mom's hospitality necessities. In addition, for years we kids were guilty of still having some of our belongings collecting dust there.
By the time I got my hands on the space three years ago, Dad had done a lot of work on the problem. So much so that I realized that the vast majority of the shelving, which took up valuable real estate and was preventing cars from entering, was partially empty. In addition, some things were already designated for other people but were still sitting there unclaimed. So that's where I began which brings me to the first two tips.
Tip 1. Get the stuff out! Deliver designated items or have them picked up. If you have donations, take them ASAP. By the way, use https://itsdeductibleonline.intuit.com if you want to itemize for taxes.
Tip 2. If you have empty shelving units, remove them, otherwise you will fill them up again. Plus, you will feel like you have made real progress as the space opens up.
As I said, Dad had a dream of a beautiful garage with just the right storage for his workshop. That did not include the repurposed kitchen cabinets from the 60's. He had cleaned most of them out so we finished that job and made a plan to get them hauled off right away.
Tip 3. If you have ineffective storage like old cabinets, call Habitat for Humanity for a pickup ASAP. Once again, if you keep them, you will fill them.
We still had to deal with an excess of certain items. Since my parents were empty nesters, they really did not need to be buying so much in bulk. Too many things were getting stored in the garage that really belonged in the house.
Tip 4. Put consumables in the areas where they will be used. If they don't fit, consider not buying in bulk.
After we got things as cleaned up as possible, we did something for Mom. She had always wanted the garage door leading into the house painted a nice color. So, she chose a beautiful shade of blue.
Tip 5. Freshen it up. Paint something, add a new door mat, and/or go shopping for new storage solutions.
Several months after we finished the purging, Dad discovered some structural issues. So, he got them resolved then ordered his beautiful blue cabinets meant for workshops. (Here he is still in the sorting phase.)
Then he had place painted, added slat wall (with the help of my kids), lighting, and had the floor surfaced.
Now the insides of his tool cabinets are meticulously organized, he knows where everything is, and he even has space to park a car! The result? One happy Dad!
I have to admit that I don't have an after picture. Why? Because we are still in the process of sorting the rest of the home. So where do things go as they are poised to leave the house? Yup! The garage. But there is hope!