Starting From Scratch: A Christmas Edition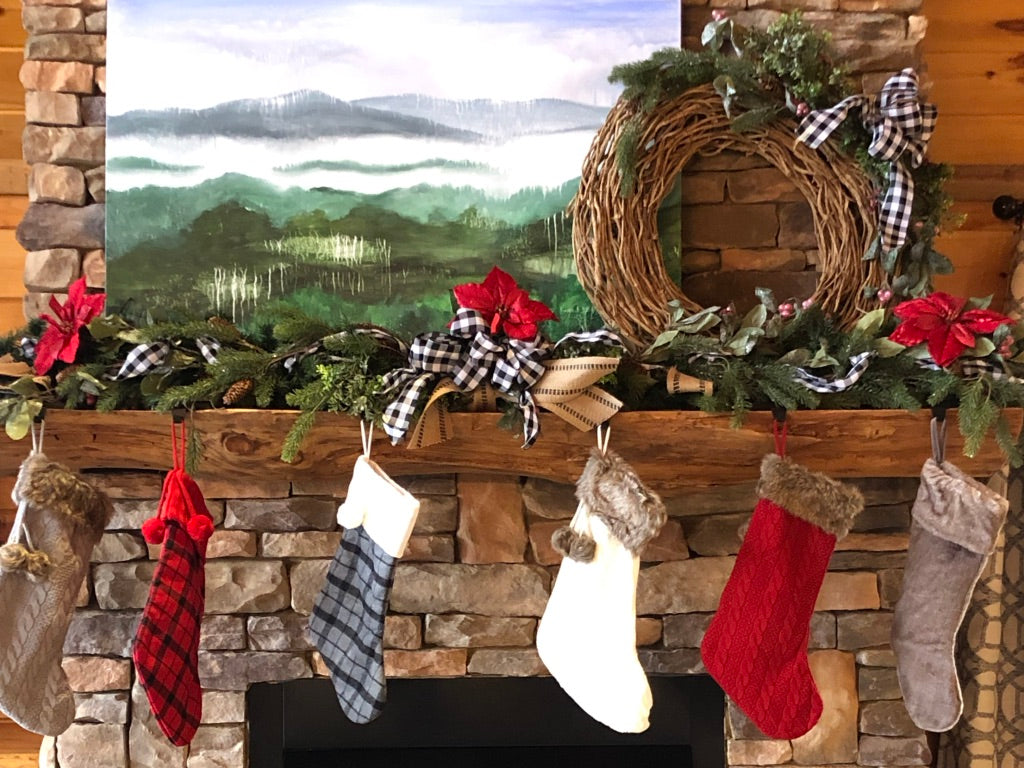 There are points in our lives when we are starting from scratch. This year, that was us with Century View Lodge, our vacation rental property in Blue Ridge, Georgia. I have and will continue to post projects from there but today is all about how we decorated it for Christmas.
To make a big impact without spending tons of time and money, we decided to focus on a few major spots. My very first project was to make this barn quilt to decorate my favorite place at Century, the lounging porch.  
Since Century View is in the mountains, a slightly rustic vibe was in order. I decided that the main color scheme would be black, white, and silver with touches of red and burlap. Believe it or not, the design was inspired by a second-hand find of some cool twine and buffalo check nesting boxes and matching ornaments. (I have since found out that these are sold at Hobby Lobby.) I try to practice what  I preach, therefore,  everything I used was on-sale, a great price, or we already had it.
O' Christmas Tree
I only had a handful of appropriate ornaments from previous years.  I raided the shelves at Dollar Tree and Big Lots for the lion's share of my decorations and got the ribbon and new type of tree "skirt" from Hobby Lobby, on sale of course.  
A Stunning Table
The next  project was the table scape. I did most of the work at home, starting with one of my trim boxes. I purchased three miniature trees from Joann Fabrics to add height. Then I filled in with loads of different types of greenery collected over the years. I spread out the arrangement to make a grand statement then  added some poinsettias, deer ornaments, and ribbon. Here's a quick video of how I did it.
Garlands Galore
Next was making the décor for the stairs and mantel.  As with the table scape, I did most of the work at home. I doubled up  basic garland that I already had, twisting the little branches together. Then I wired in a variety of different greenery branches to add interesting texture and a little color. Finally, I wound a ribbon through it. Once we set up, I added poinsettias, and burlap loops made from upholstery webbing. Here's a super quick video of how I did that too. 
I did the stairs basically the same way as the mantel but instead of winding the ribbon through the garland, I just used giant bows at four points with some poinsettias.
A Warm Welcome
We felt like there needed to be some outdoor lighting and something to greet our guests. Eventually we will probably do more but for right now, we have a four-foot wreath with sparkly snowflakes, red balls, and ribbon to match the inside décor. 
A Bonus Tutorial: Bows
You may not be starting from scratch but you may want to just spruce things up a bit with a new bow. I included how to make one in the wreath video. But here is a "bow only" video you can refer to easily. Please, do yourself a favor and never buy a pre-made one again!
All Ready For Guests
We are pretty happy with the final results and got to enjoy them over the weekend. Admittedly, there are not a lot of sentimental touches yet, but we will add them year by year. My Covid Gnome made it on the tree so that is a start. I hope you have learned a little something and will be able to use some of the information I have passed on to you.