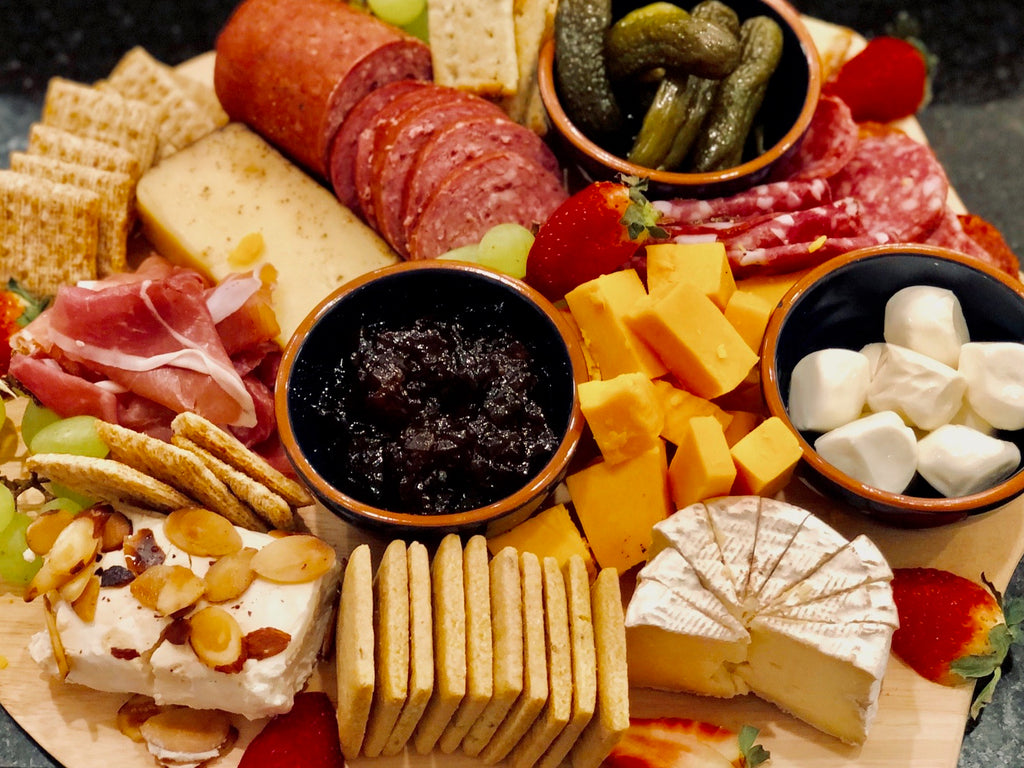 Just like fashion or home décor, food has trends. One of the current ones is charcuterie. I had never even heard the word until I was watching the Food Network a couple of years ago. Just in case this is new to you, char·cu·te·rie (SHärˈko͞odərē) is a branch of cooking devoted to prepared meats. But in our world, this definition has broadened a bit.
You may have heard of charcuterie boards. They are basically serving boards which may or may not have a surface suitable for cutting. They are covered with a wide variety of meats, cheeses, olives, sauces, jams, crackers, nuts, and fruits. Take your basic deli tray and add a little of the exotic and a lot of the artistic and the result will be the modern-day charcuterie board.   
Start With The Foundation
Charcuterie boards can be made out of anything from marble to wood. We have a selection of them in our Around The Table Collection. Some are collapsible for easy storage, some are tiered, some include tools, etc. But all are very stylish, functional, and versatile.
It's All About The Food
I have come to realize that charcuterie boards are basically miniature buffets which frees  my imagination to run wild with possibilities. My criteria for what to serve is that everything (or almost everything) should be able to fit on at least one kind of bread, cracker, or cookie you are serving. The fun is in people making up their own combinations. The permutations are endless! 
And Now For The Pretty
Besides the sheer variety of foods on charcuterie boards, the other differentiator between them and your basic deli tray is in the design. They are beautiful to look at, like edible art. But don't be intimidated! Did you ever take art in school? Have you ever heard of the elements and principles of design? These apply to everything visual, from architecture to brochures so why not food? Here's a refresher.
Elements: color, line, shape, scale, space, texture, and value 
Principles: balance, contrast, emphasis, movement, pattern, rhythm, and unity/variety
The Basics
Start with pulling out or listing all your ingredients.
Decide what will need to go in a bowl or need a little extra space.
If necessary, make a quick sketch of your plan.  If you are still a little freaked out, use a simple object as a pattern, such as a wreath, candy cane, or Christmas tree.  
Start with the biggest piece(s) or most aesthetic thing you are serving, using it as a focal point.
Balance out sizes, colors, and textures.
When finished, embellish the whole display by scattering nuts, seeds, bacon bits, or chocolate chips.
I have come up with some sample menus for you. They are great for anytime but particularly for the upcoming holidays.  
Self-Service Breakfast
Deviled eggs-White
Bacon in small pieces-brown
Sausage patties-brown
Little smokies-brown
Maple syrup-white dish
Honey-white dish
Jam-white dish
Mustard-white dish
Tea biscuits-white
Donut holes-white
French toast sticks-brown
The Design
I wanted to do something pretty orderly. Some things were hot and some cold. But everything except the breads could have been done in advance. These days you can even buy bacon and sausage precooked. Notice that I put a color next to each ingredient. I used that to organize them. I had the brown and white alternate, making for a balanced design with pleasing repetition. But notice that making rows do not take any extraordinary artistic ability but the result is still elegant and beautiful.
Make-Ahead Lunch 
Pimiento cheese-orange
Tuna salad-tan
Chicken salad-tan
Grape tomatoes-orange, red, and maroon
Cucumbers-green
Carrots-orange
Peppers-orange
Pickles-green
Crackers-tan
The Design
I put this one on top of an inverted box made from scrap trim.  Since I was serving the salads on round plates, I thought that a floral pattern would be a good choice. Once again, I balanced out the colors, making sure the strongest of them, orange, was on both ends. I also cut the carrots on an angle to make them more like petals, instead of the traditional stick. An added benefit was that they were "dippable."
A Light Supper
Salami
Ham
Turkey
Soft Cheese
Hard Cheese
Crumbled cheese
Savory Jams
Dipping Sauces
Tapenade
Veggies
Dried fruits
Fresh fruit
Nuts
Crackers
The Design
I have to give credit where it is due. The hubs made this one. Impressive, isn't it? Notice that some meats are partially sliced and some are folded. The cheeses are   in cubes, wedges, whole, and in a bowl.  Crackers are in several places around the board and the repetition of grapes and strawberries scattered throughout add to the coherence of the design.  It really is a feast for the eyes and the stomach.
A Deconstructed Dessert
Graham crackers
Hershey bars
Marshmallows
Marshmallow cream (In case you don't have a fire)
Ritz crackers
Sliced bananas
Bacon pieces
Reeses Thins
Nuts
 The Design
Several years ago we started doing S'mores Bars. This is an artistic take on one. All of the ingredients are arranged in a dough bowl,  making it really easy for people to grab what they need instead of Mom being the person balancing everything on her lap, unwrapping Hershey Bars as fast as she can with impatient kids chomping at the bit holding  charred and dripping marshmallows on molten skewers. Bowls needed to be the focal point then it was a matter of making rows.  At the end, I scattered pecans and marshmallows for a little embellishment.
Go Crazy!
These are just the beginning. Why not try an ethnic theme or have all foods begin with a certain letter? Maybe go for a regional vibe and have everything locally sourced. The mind reels, doesn't it?
If you use the guidelines in this blog you will have a beautiful charcuterie board. And even if you don't follow a word I said, big deal! It will still be delicious!