Paleo Smoked Salmon-Avocado Toast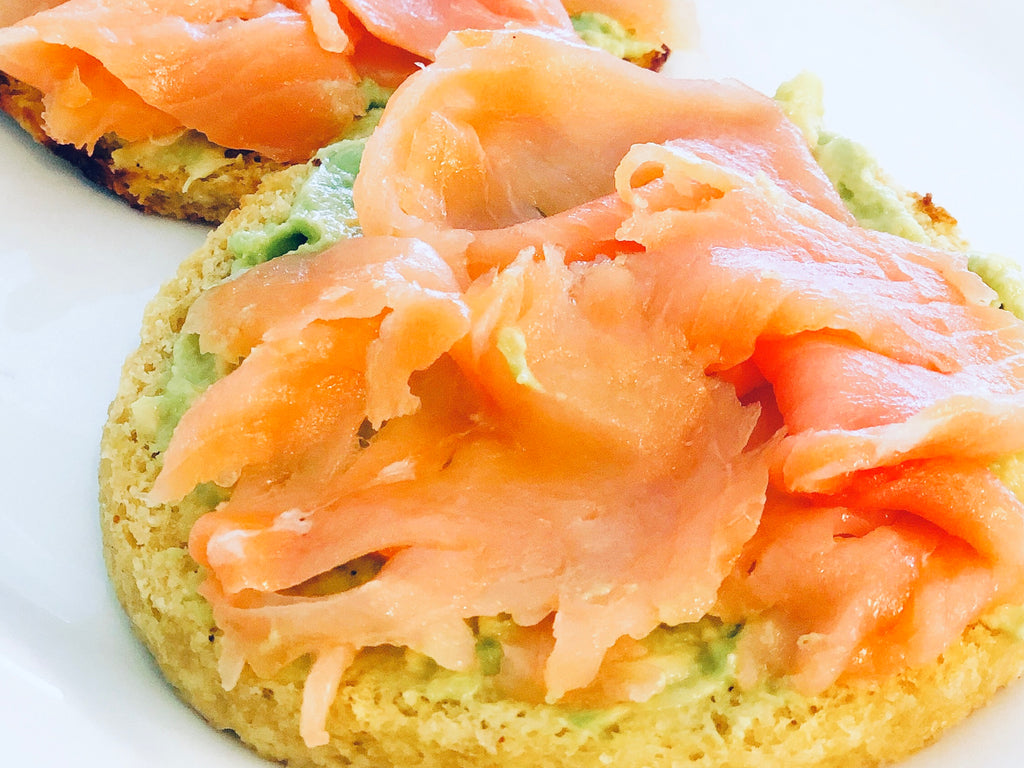 I am trying to get back on the wagon of staying away from grains. I am not strictly Paleo but my body just appreciates less grain and dairy. I have to admit, though, this "corn-fed gal from Indiana" (that is actually a song) has to have her Amish popcorn. The adopted southerner in me has trouble passing by cheese grits too. But I digress.
I have a Pinterest Board entitled, "The Way I Should Eat" but most of it consists of recipes that are made to make me feel like I am not missing out on anything. One of those is MICROWAVE CINNAMON RAISIN ENGLISH MUFFIN. Yes, you read that right. I have made versions of this several times in the past week. It totally hits the bread-craving button. If you don't like cinnamon or raisins, just change them out. Click here for the original post from  Big Man's World. But I am going to show you my spin on this insanely quick and easy recipe. But not only will you get that, keep scrolling for the main attraction!
One difference between mine and the original is the use of smashed banana. I don't know about you but I always have rotten bananas in my freezer. I can't stand food waste so I keep them on the off-chance I will make banana bread. Anyway, use those, if you have them. They make the muffin sweeter than with applesauce. But the flavor is more pronounced so they aren't the best choice for the savory version. Also, you can add anything you want to these. I love Publix's Breakfast Bread which has dried everything in it. Craisins, and dried apricots would make these amazing!
MICROWAVE CINNAMON RAISIN ENGLISH MUFFIN
Spray a dish with cooking spray. I use a small corning dish with a flat bottom. But if you want a smaller version (fewer calories), check out these ramekins.
In a separate bowl, combine:
2 T almond flour
1/2 t baking powder
1/2 t cinnamon
A pinch of sea salt
1 egg
2 T applesauce or smashed banana
1 T raisins
1 T chopped walmuts
Pour the mixture into the prepared dish and microwave for 2 minutes. Take it out and turn over the dish to release the muffin. Let cool on a rack, if possible. You can eat it right away but it works so much better if you let it cool then slice and toast it. It does burn easily (as you can see but that adds flavor, right?) so you can't get it as crunchy as real English muffins. But maybe baking would work.
Another note: I tried these using egg whites. The shape was weird and they had too much moisture.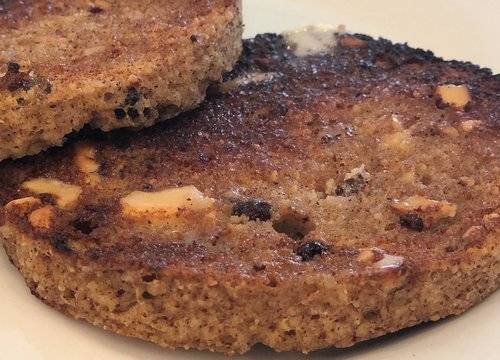 ---
And now for the Main Attraction….
Recently, the hubs and I had the pleasure of visiting California. Since I usually have the "when in Rome" philosophy , I decided to give smoked salmon and avocado toast a try. Some of you may be totally grossed out but I know there are others out there saying, 'Why didn't I think of that?'. I have been hooked ever since. As a bonus, it is amazingly satisfying!
SMOKED SALMON-AVOCADO TOAST
2 T almond flour
1/2 t baking powder
1 egg
2 T applesauce
A pinch of sea salt
Follow all the directions as above. Then top your English muffin with:
1/4 avocado mixed with a little salt and lemon juice
2 oz smoked salmon
DONE! Enjoy!