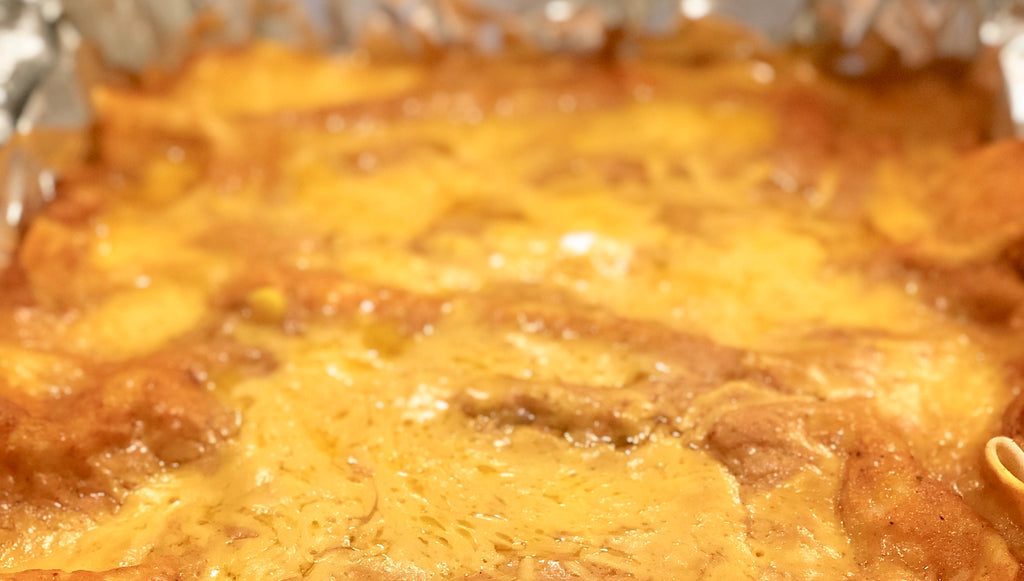 Last week we had the opportunity to host a group of teenagers and their leader from Ukraine. Included in their visit was a larger gathering including members of our church's recent mission trip.  I was trying to think of what to serve that would be a crowd-pleaser but easy. I floated the ideas of pasta bar and Mexican past my high-schoolers and we landed on the latter. But my daughter pointed out that with a taco bar, it is a stress to be sure you have enough of everyone's favorite topping. Hmmm. Enchiladas became the solution.
Here's the thing with large groups, you will have picky eaters but also those with dietary restrictions. You can't cater to all of them but I like to try to have something for those who have allergies or sensitivities. In addition, when feeding people from another culture a food that is not widely found in their country, you run the risk of them not liking it. Ukrainian food is flavorful but not spicy, in general. Cumin and chili powder are not native spices. Because of this, I made sure to make things pretty mild.
 For the menu, I made three kinds of Enchiladas: beef, chicken, and cheese. The beef recipe I found recently on Pinterest and tested it out on my family first. The chicken has been a staple in our family diet since my Aunt Chris made it for us during my surgical recovery years ago. The cheese? That was the tricky one. Here's the thing; I don't like beans. Some of my kids don't like beans. If I would have made traditional cheese enchiladas, they would have had beans and no one would have eaten the leftovers. In addition, I needed to tone down the heat so that is how this recipe was formed. I have to admit, this won't be exact because it was an experiment. But hey, do your own thing!
CHEESY-RANCH ENCHILADAS
16 flour or corn tortillas
4 cups cheddar and/or Monterey Jack, divided
1 15 oz can chopped tomatoes, drained
12 oz frozen corn (thawed)
1 C minced onion
2 packages McCormick Enchilada mix
3 C water
16 oz tomato sauce
1 C Greek yogurt or sour cream
½ C Ranch salad dressing
Spray two 9" x 13" pans. Preheat oven to 350 degrees.
Prepare sauce as directed on the package. Take off of stove and add yogurt and ranch dressing.
Mix together: 1 ½ C prepared sauce, 2 1/2 cups cheese, tomatoes, corn, and onion. Spoon mixture into tortillas and roll. Place in pans, seam-side down.
Pour remaining sauce over enchiladas. Sprinkle with remaining cheese. Cover with foil and bake for about 30 minutes, until bubbly and cheese is melted.