Fire Station #11's Favorite Chili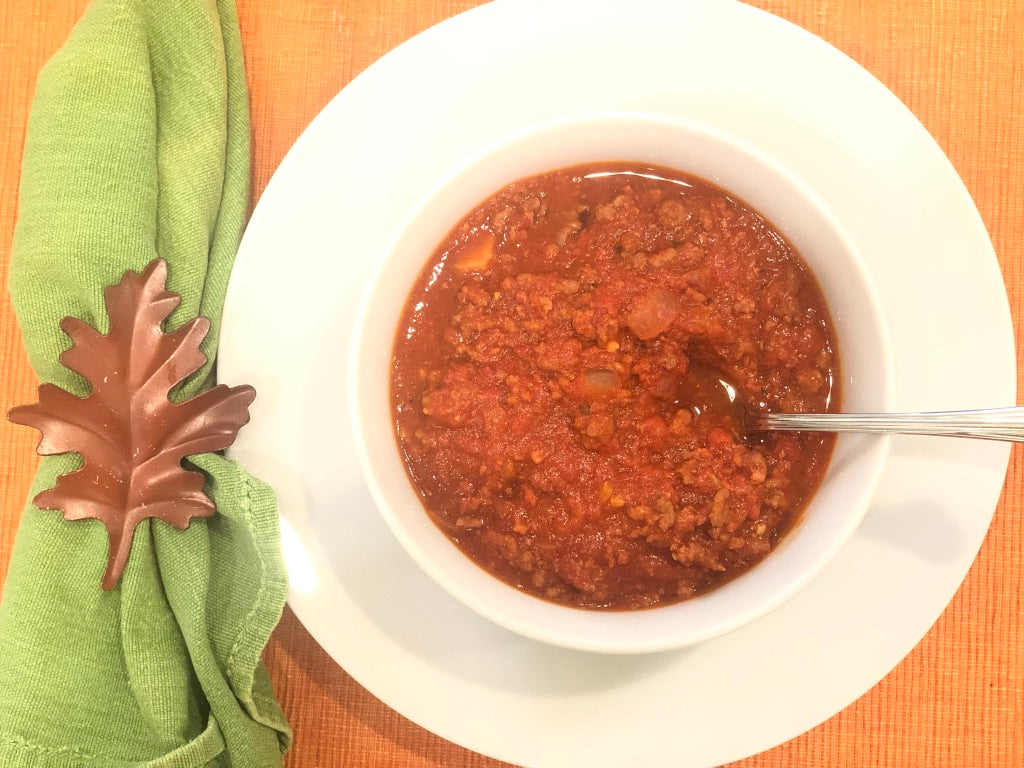 Don't you love happy accidents? Who doesn't? Occasionally, I have them in the kitchen and today's recipe is the perfect example.
Several years-ago our church hosted its own chili cook off. I didn't sign up for it. I only brought chili because I don't like beans so I wanted to be sure there was some that I would want to eat.
My normal recipe was from the Better Homes and Gardens cookbook, very traditional in flavor. But I must not have had all the right ingredients so I veered off course and made up my own that morning. Following my mantra of "start where you are, use what you have, and do what you can",  I used leftover tomatoes from pizza making and leftover chorizo from paella. I also threw in some mesquite marinade mix just for good measure. As my mother-in-law would say, I wasn't sure it was "fittin' to eat", so I almost left it at home.
The fire fighters from the station next door to our church came over to judge the competition. There were several categories but mine won "Firemen's Favorite"! High praise indeed! After all, if there is one food that fire fighters are known for, it's chili. On top of that, my husband said that he liked it better than my usual. So, my new chili was born and now I will share it with you.
Beth's Prize-Winning Chili
Brown and drain:
3 lbs ground chuck
1 lb pork chorizo
1 ½ C chopped onions
Add:
6 cloves garlic
1 pkt. McCormick's Mesquite Marinade
1 t smoked paprika (If you don't have smoked, add a few drops of Liquid Smoke)
1 t cumin
¼ t onion salt
3- 28 oz canned crushed tomatoes
2 C corn (optional)
Simmer for at least 30 minutes just to meld flavors or put it in a crockpot on low for a few hours. It's very forgiving.
We serve ours with sour cream, shredded cheddar, and Fritos.
BONUS: If you are a corn bread person, try this:
Put about 2-4 tablespoons of butter in a cast-iron skillet and melt it in a preheated oven. Mix up some Jiffy Corn Bread and bake it in the hot skillet. Drizzle it with honey when finished. YUM! It's the ideal recipe: fast, easy, and cheap!