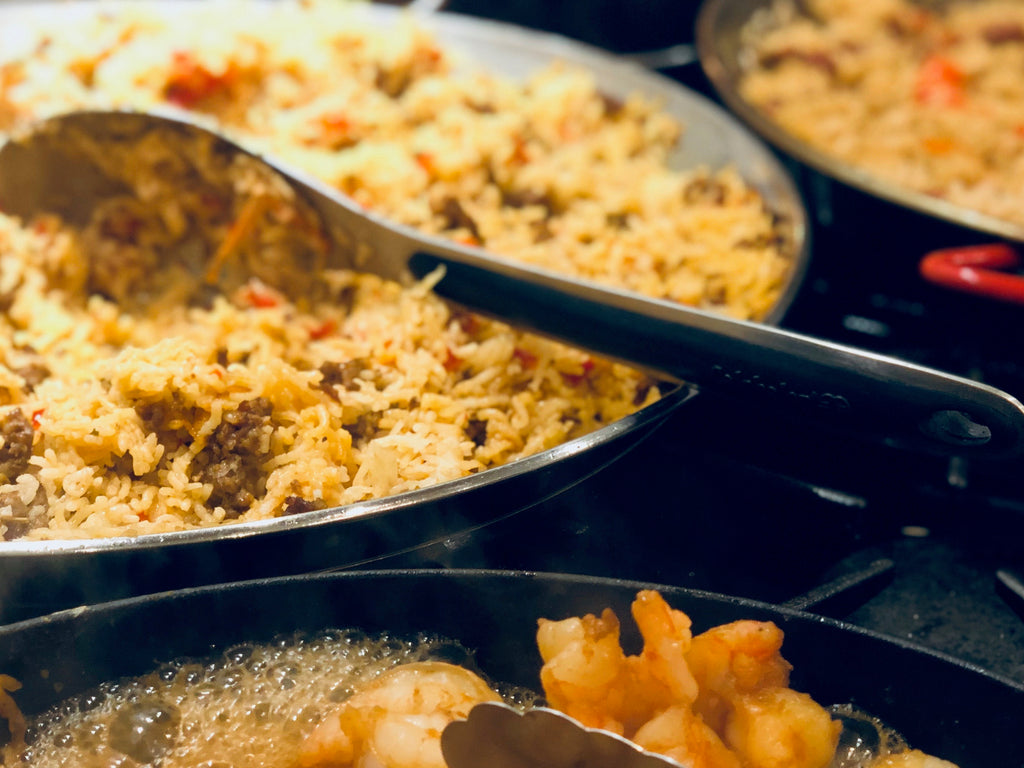 Have you ever heard of Paella (pronounced pie-A-uh)? It's a Spanish dish made of rice, sausage, saffron, chicken, seafood, etc, cooked and served in a large shallow pan. 
The first time I ever heard the word "paella" was on an episode of Seinfeld when George Constanza's mom made it and it was a huge deal. My first personal encounter was in South Africa when my friend, Judy, wanted to prepare a new recipe. It was amazing! Years later, I decided that we needed to give it a go.
Our first time serving it we were hooked. But mine didn't taste like Judy's, primarily because I couldn't find Spanish chorizo sausage and we did not have the finances to spend $17 on three strands of saffron.  It's amazing how tampering with those two ingredients altered the flavor but that was not necessarily a bad thing, just different. There are many recipes for paella. I have even made it with soy-based chorizo. We happen to carry a book, La Paella that has a wide variety of options, even for dessert!
The Pan
For a long time I made the dish in a large frying pan. But several years ago I acquired a traditional paella pan. These can be enormous! Mine is big enough to cover almost two burners. It was the $30 traditional pan from Williams and Sonoma, I believe. I still have it but it doesn't distribute heat very evenly, doesn't clean well,  and also needs TLC because it rusts easily.
My newest one, however, is stainless steel, distributes heat pretty well, cleans up beautifully, and doesn't rust. It looks so nice that we keep it out all the time, which reminds me to use it for all sorts of large batch cooking. It just so happens that we sell these too and they are worth every penny.
Strangely, paella pans don't come with lids, even though the rice needs to be covered when cooking. They make generic ones that aren't very aesthetic so I decided that pizza pans are just as good.
The Ingredients
There are some very traditional ingredients that you can use but they are not absolutely necessary. We happen to carry some of them, fancy that! 
If you want to make your life really easy, buy our Paella Kit, which includes the pan, book, and ingredients! 
So now after all of that introduction and shameless plugging, are you ready for my versions of paella?
Beth's Bootleg Paella
Thaw:
1-2 lbs shrimp
2 lbs chicken tenderloins
1-2 lbs calamari or other seafood
Season all the meat and seafood with salt, pepper, and smoked paprika. Set aside.
In the paella pan, heat
Add and sauté  until soft:
1/2 C thinly sliced onions
2 cloves pressed garlic
2 sliced sweet red, yellow, or orange peppers
Add:
1 lb Johnsonville chorizo sausage*
When browned, stir in:
2 C rice (Basmati or Bomba)
Add: 
1 t smoked paprika
1/4 t oregano
salt and pepper
4 C hot chicken stock
Bring to a boil; reduce heat; cover and simmer 20-25 minutes. It will probably take more time and a little more liquid.
In a separate skillet, heat:
Sauté chicken. Remove from pan and keep warm.
When rice is ready, in the chicken pan, heat:
Add seafood.
Quickly sauté until shrimp is pink. Arrange the chicken and seafood on the rice.
Serve straight from the pan with sour cream.
 We always serve ours with Kerith House Salad and Mezzaluna (artisanal garlic) Bread.
NOTE: *If you want a little more traditional Spanish flavor as opposed to this pseudo Mexican version, exchange the Johnsonville chorizo for Boar's Head hard Spanish chorizo and add some threads of saffron. Both ways are delicious!