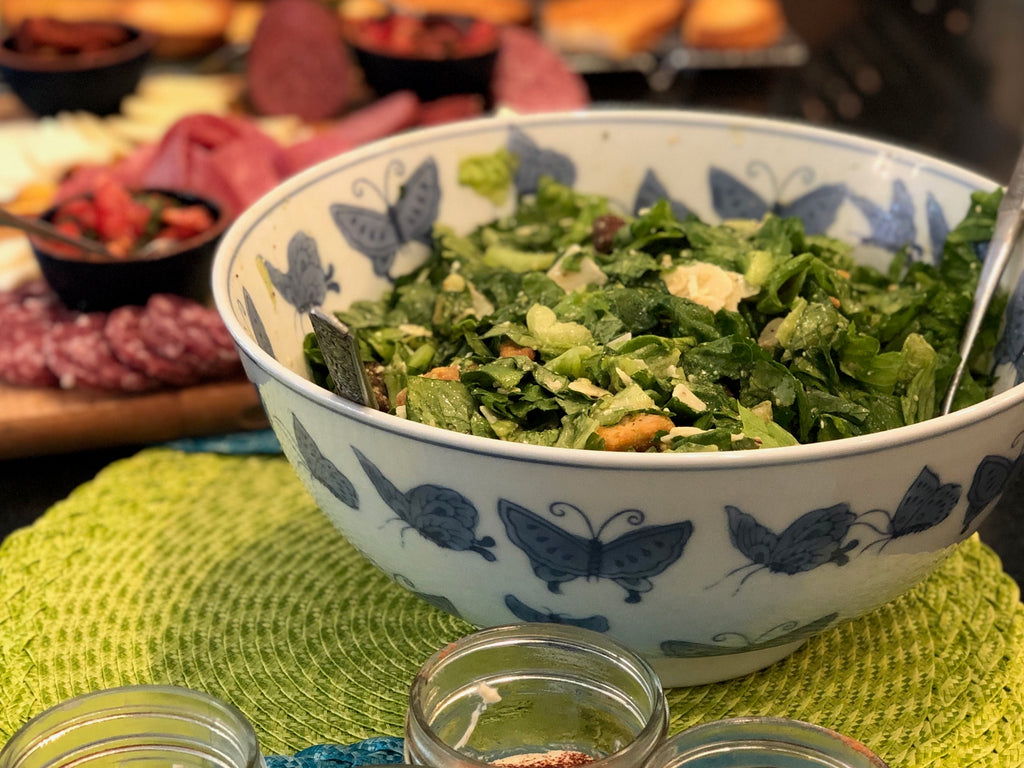 Do you need an idea for a fabulous luncheon? How about Italian? Let's face it, we Americans love our Italian food. You would be hard-pressed to find a person who doesn't like a thing on the menu I am going to give you today. In fact, my friend, Christie, is responsible for introducing me to the soup and bruschetta. She made them for our small group which consisted of about 25 adults and kids. The food was a hit!
A great thing about this meal is that much of it can be done in advance with just some finishing touches at the end which makes it absolutely perfect for entertaining. So I will break down each recipe into parts so you know what to do In Advance and what needs to wait until Feast Day. 
The Menu
Italian Vegetable and Cheese Tortellini Soup
Bruschetta
Antipasto 
Caesar Salad
Mini-Tiramisu 
ITALIAN VEGETABLE SOUP
In Advance
Brown:
1 lb mild Italian sausage
1 chopped onion
1 clove garlic
Chop and add to meat mixture:
2 carrots
2 zucchini
2 yellow squash
1 t basil (or to taste)
1 t oregano (or to taste)
Note: If making this for people who don't really like veggies, instead of chopping, pulverize them in a food processor.
Add salt and pepper to taste and cook for a few minutes. 
Stop at this point and refrigerate or freeze the mixture. If you have a lot of storage space, you can add the liquids. Just do not add the tortellini or it will absorb all the liquid and you will no longer have soup. Been there, done that. 
On Feast Day
In a large stock pot, combine meat mixture with:
2 cans of condensed tomato soup
4 cans of water
Let simmer for at least 15 minutes. About 20 minutes before serving, add:
1 package of refrigerated cheese tortellini
Cook until done. 

In Advance
Slice:
1/2 baguette or other crusty, long loaf bread into 1/2" pieces
Peel then refrigerate:
2 cloves of garlic (must be fresh, not in a jar)
Seed, chop, and refrigerate:
Chop and refrigerate:
On Feast Day
In a serving bowl, mix the tomatoes and basil. Add:
a drizzle of olive oil
a pinch of Kosher or other coarse salt
Preheat the broiler to high or heat up your grill. Char the sliced bread on either side but watch it very carefully. Have garlic and olive oil on hand.
Rub the toasts with the peeled garlic and drizzle with more olive oil. On a platter, scatter toast around the bowl of tomatoes. Or serve it in this gorgeous bread and butter bowl.
ANTIPASTO (CHARCUTERIE) 
I did a blog about charcuterie boards a while ago. For ideas and tips on how to put one together, click HERE.
Also, for beautiful display pieces, we have a whole range of options. Click HERE to shop.
In Advance
Slice sausages and cheeses.
Put sauces, nuts, olives, etc in small bowls. 
If doing this just a day ahead, you can actually create almost the entire charcuterie board then wrap it tightly in plastic wrap.
On Feast Day
Add crackers and breads to charcuterie board. Serve.
CAESAR SALAD
It's really easy to make authentic Caesar salad from scratch. To get the recipe, click HERE.
In Advance
Clean and chop romaine lettuce.
Shave parmesan cheese.
Make Caesar dressing.
On Feast Day
Just before serving, toss everything together  in a beautiful bowl with fabulous salad servers and add croutons .

In Advance
On a tray, place 8-12 jelly jars or small bowls.
In a bowl combine and set aside:
1 C strong, warm espresso
1 T sugar
With a mixer, beat until stiff and set aside:
With a mixer, beat until thick and pale yellow:
Add in and beat until fluffy:
Gently fold in egg whites, trying not to deflate mixture.
To assemble, think of it like lasagna.  Have at the ready:
24 ladyfingers
cocoa powder for dusting
coffee mixture
For each dessert serving:
Dip one cookie in the coffee. Break it in half.
Lay one piece on the bottom.
Top with a spoonful of cream.
Place second half on cream.
Top with another spoonful of cream.
Dust with cocoa powder.
Dip a second cookie in the coffee. Break it in half.
Place side-by-side over cocoa.
Top with two spoonfuls of cream.
Don't worry if you don't get it exactly right. It will all taste great in the end no matter what.
Cover and chill overnight to set.
On Feast Day
Dust with more cocoa powder.
To Wrap Up
This meal is perfect for this time of year. Fresh basil and veggies are in season but soup speaks to the hint of autumn to come.  Enjoy it all with friends, family, or complete strangers!