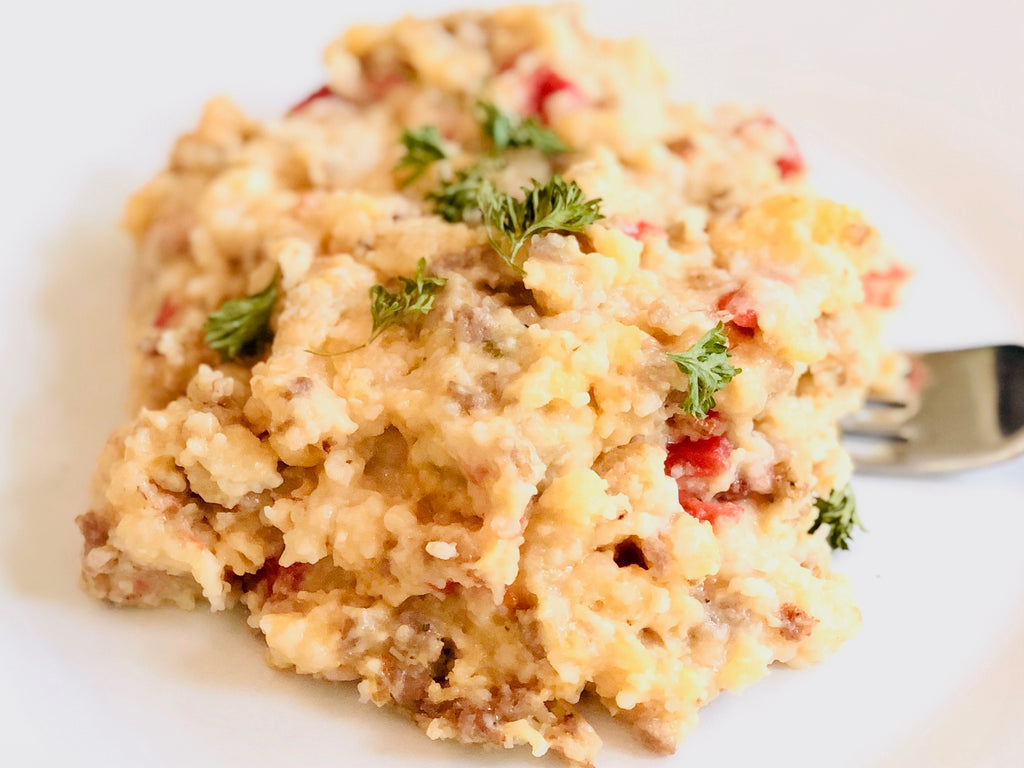 Have you ever tasted something so good that you just couldn't focus? I joined a gardening group a few months ago. As part of the first meeting we had a brunch. Everything was delicious but I have to say that in my mind, the grits were a show-stopper. 
We had a great talk about sustainable farming and business matters of the club. But when it came to the Q & A, I only had two things on my mind: 1. Who had made the grits? 2. Could I have the recipe? Fortunately for me (and you), a very surprised garden club member spoke up and said she would be happy to share. As you can imagine, I was giddy!
I decided that I needed to make this for my recent girlfriends' weekend. I served it with scones and omelets. But, one of the things that makes this recipe great is that it can be a meal on its own. It has grain, meat, dairy, and even vegetables. What more could you want? Also, unlike just normal grits, it actually is good leftover. So make a big batch for the family over the weekend and breakfast will be done for days! Have a go!
GRITS ANGELA
8 oz Velveeta, melted
1 can mild Rotel tomatoes, partially drained
1 lb Jimmy Dean Pork Sausage, cooked and crumbled
1 C dry grits, prepared and salted
1 egg, beaten
2 C shredded Parmesan cheese
In a large bowl, mix melted Velveeta, tomatoes, and sausage.
Add cooked grits to mixture and stir.
Take a spoonful of the grits mixture and add it to the beaten egg. Then return that to the full pot.
Add the Parmesan cheese. (You can save some for the top it you wish.)
Pour into a greased 9" x 13" pan. 
Bake at 350 degrees for 45 minutes or until slightly brown.
Let stand for 10-15 m minutes before serving.