Mama Sheila's Sweet Potato Soufflé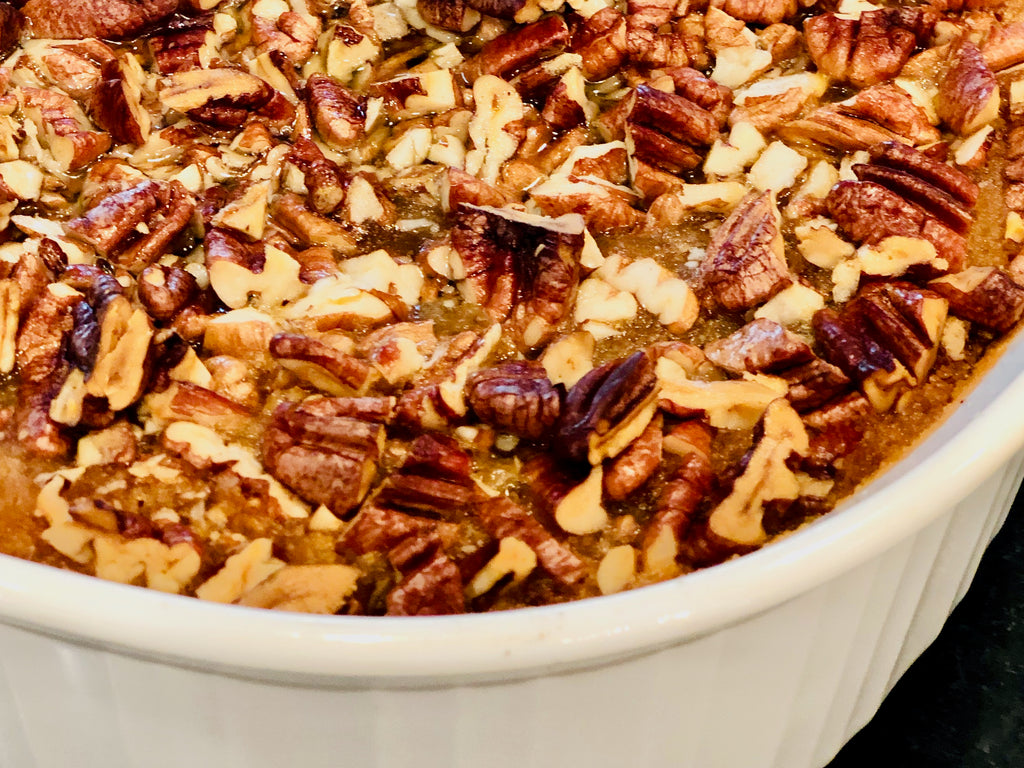 If you want hands-down, the best sweet potato casserole EVER, look no further!
At Thanksgiving we were like most families and had sweet potato casserole. Ours was the marshmallow-topped variety. I always thought it was good but it wasn't one of those things that I just couldn't wait to have. Then I met Mama Sheila, my southern mother-in-law. Her Sweet Potato Soufflé is AMAZING! In fact, it is so good, we had it served at the rehearsal dinner for our wedding.
Since then, every holiday at her house, and most at mine, we get this treat. It's technically a side dish but is so decadent and sweet that I am happy to eat it for dessert. 
Since Easter will be upon us very soon, I thought it would be nice to share this recipe with you as the perfect accompaniment  for your holiday dinner. By the way, it is not a true soufflé, so don't be intimidated.
MAMA SHEILA'S SWEET POTATO SOUFFLÉ
INGREDIENTS
Filling
3 C cooked sweet potato or canned yams (*See TIP at the end)
1 C sugar (I use Stevia, Splenda, or a blend)
1/3 C melted butter
2 eggs
1/3 C milk
1 t butter flavoring (surprisingly important)
Topping:
1 C brown sugar
1/4 C flour
4 T butter
1 1/2-2 C chopped pecans (optional)
INSTRUCTION
Preheat the oven to 350. Spray a baking dish with Pam.
Mix together all the ingredients for the filling. Puree until smooth
Pour into baking dish.
Mix together the flour and brown sugar and spread over the top of the sweet potato mixture.
Melt the butter and drizzle over the top. 
If desired, add chopped pecans.
Bake for about 35 minutes until a crust forms and soufflé is set.
*TIP:  Sheila gave me a great baking tIp for the potatoes. Wash and dry them. Then stab them in the middle and rub olive oil all over them. Put on a baking sheet lined with foil and bake at 450 until soft, about an hour. They are so delicious just like this.