A Norwegian's Take on Chocolate Croissants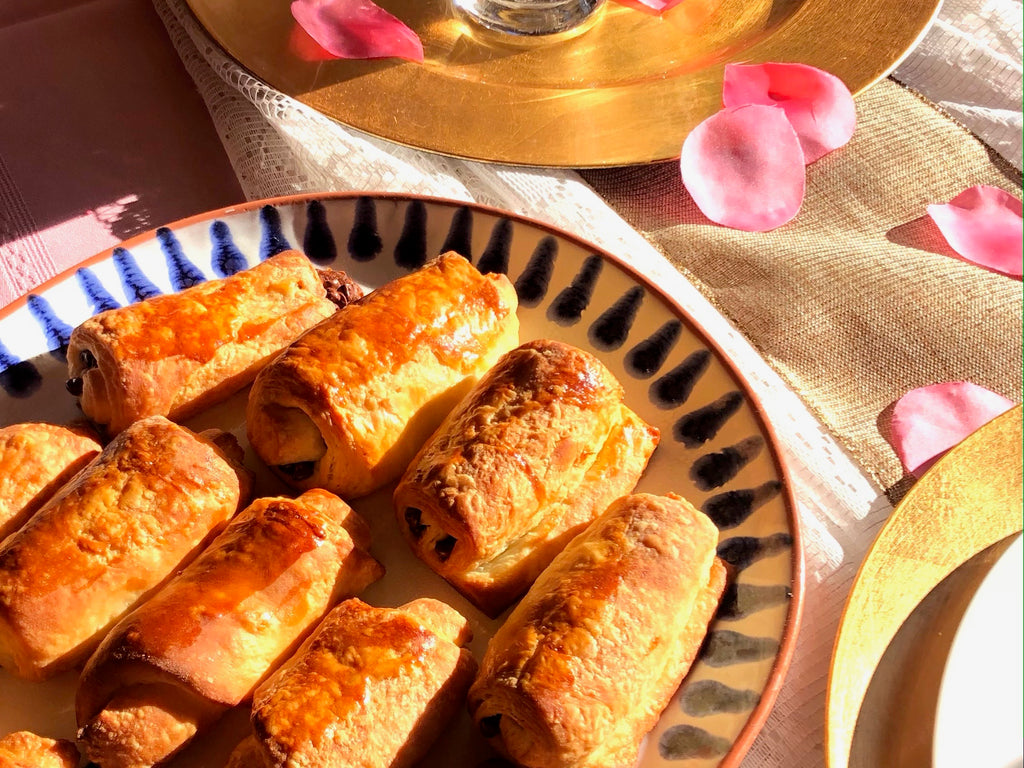 We have a tradition passed down from my mom that on your birthday, you get breakfast in bed. As a special treat, it always included some sort of pastry. My choice was usually a chocolate eclair. Yum!
My kids, however,  have always wanted donuts because they don't get them often. But this year, my number two child decided she wanted to shake things up a bit with chocolate croissants. 
I was more than willing to buy these  but since we were celebrating in the mountains, the only place I could find them was Starbucks and they would not have been fresh since I would have needed to purchase them ahead of time. But also, there was no guarantee that by the time I could buy  them they would even have any.
I am all about taking the mystery and intimidation out of all things home so I decided that if I can make Kringle, which is a large Danish pastry with layers and layers of butter, I could make croissants, a French pastry with layers and layers of butter.
Like a good Scandinavian, I started with the Kringle recipe and adapted it to make half-size croissants. Less guilt that way. Also, my pet peeve with chocolate croissants is that they only have chocolate in one place, not spread throughout. So I decided to remedy that. If you want to try these yourself, here is how.

MAKING THE PASTRY
Soften:
¾ C butter
Spread the butter on a piece of waxed paper to the dimensions of 8"x 16". Lay it flat on a baking sheet and chill until firm. You can use the refrigerator. If I have space I usually use the freezer.
Dissolve:
1 packet dry yeast 
1 t sugar
into
¼ C lukewarm water (check the packet of yeast for exact temperatures)
Add and mix well:
¼ C lukewarm milk
¼ C sugar
½ t salt
1 beaten egg
Place mixture in a food processor and pulse 15 times (or mix by hand) after adding:
2 C (8 oz) sifted flour 
Wrap the dough in plastic then put in a gallon Zip lock bag.
Refrigerate 2-24 hours. I have actually let it go longer than that when I have been too busy to deal with it.
On a well-floured board (I find wood works best), roll out the dough to an 8" x 12" rectangle. Cut the hardened butter in half and lay it on 2/3 of the dough.
Fold the empty third over the center then fold the remaining third on top. You should have three layers of pastry and two layers of butter. (This only will take about ten minutes, by the way.)
Wrap the pastry in plastic and refrigerate again.
The next day, or at least several hours later, repeat the previous process with the remaining piece of butter.
Roll it out again to about 8" x 12 and fold it in thirds. Repeat another two times. The more you do this the more layers of butter there will be.
ROLLING AND FILLING
Divide the dough into three parts. Refrigerate two of them.
On a lightly floured surface, roll the dough to about a 10" a 14" piece. It will be very thin.
Using a knife or pizza cutter, cut it into 8 rectangles.
 On each piece, sprinkle around 2 T mini chocolate chips. 
Roll up the dough from the short end. Place on a cookie sheet, brush with the beaten egg,  and allow to rise for about an hour. Repeat the process with the rest of the dough. 
Preheat the oven to 400 degrees. 
Brush the tops of the croissants again with beaten egg. (I have to admit I only did this brushing on my batch.)
Bake for about 15 minutes until golden brown. Serve warm.
If you want something gorgeous to display your creations, check out our selection of tiered servers.
SHOP NOW.