A Cedar Outdoor Storage Coffee Table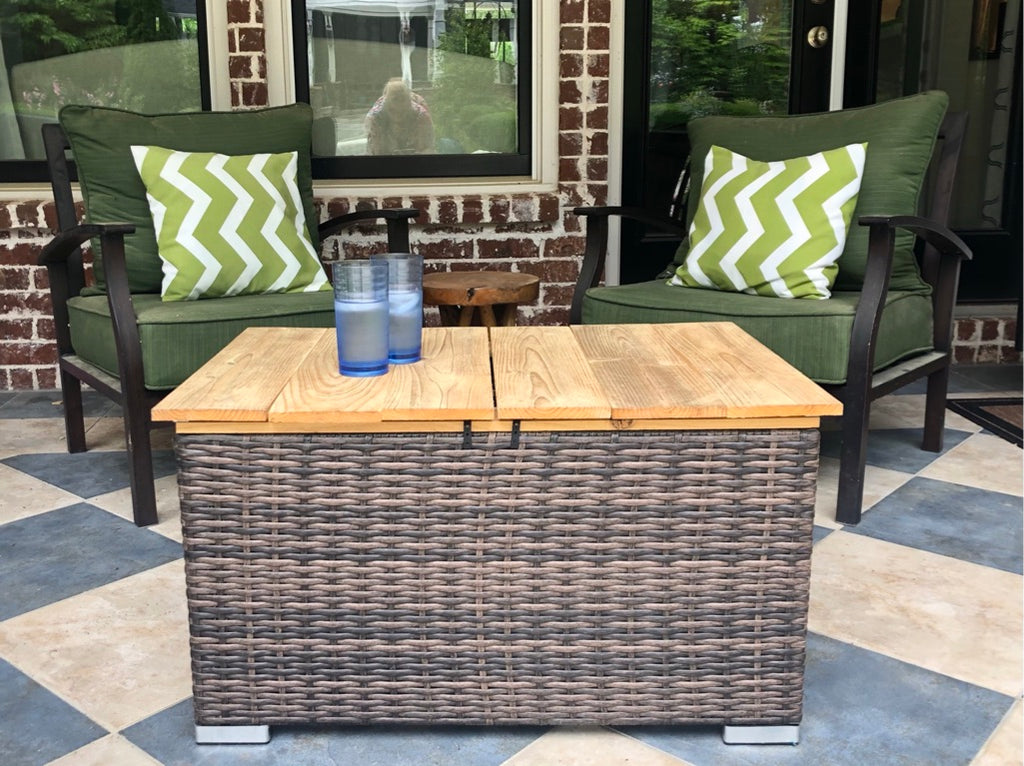 Have you ever had a time when just part of something was damaged or ruined but the rest was fine? That's the reason why the concept of "Trash to Treasure" even exists, right?
Last summer we purchased our vacation property in Blue Ridge, Century View Lodge. We had to furnish it top to bottom, including outdoor patio furniture. We ordered a beautiful lounging set that came with a metal-topped coffee table.
At the same time, the towel storage box at our home had started to disintegrate so a plan was hatched to turn the damaged coffee table into our new towel storage. All it took was some cedar fence pickets, hinges, zip ties and a little scrap wood. You may be thinking, 'I will never do this because I will never have this same circumstance.'  But I beg to differ. You could apply this idea to a galvanized trough, planter, steamer trunk, wooden box, etc. It's fast and easy. Here is how you can try this for yourself.
THE PROCESS
Remove the old top if there is one.
If there is no bottom to your piece, add some slats of wood to create one.
Purchase a plastic bin to sit inside. Make it small enough to allow for a wooden frame to sit on top.
Insert the bin.
Build a frame to sit on top. Use pocket screws to assemble.
Drill holes in the frame and zip tie it to the base if you cannot screw directly into it.
NOTE: The zip ties serve two purposes: 1) they attach the frame to the base, 2) They add just the right amount of height to compensate for the thickness of the hinges so that the doors lay flat and even.
Build simple doors. I used cedar fence pickets which are really cheap. Just add some cross pieces and screw them together.
Hinge the doors to the frame.
Done!
Now we do keep the lid on the storage bucket in winter to keep the towels clean. But in summer since the pool is used daily, we will keep the plastic lid off to make for easier access.
This project took about an hour and probably cost less than $10 in wood, $16 in hinges, and the price of a tub. Give it a go!