Couples Getting Organized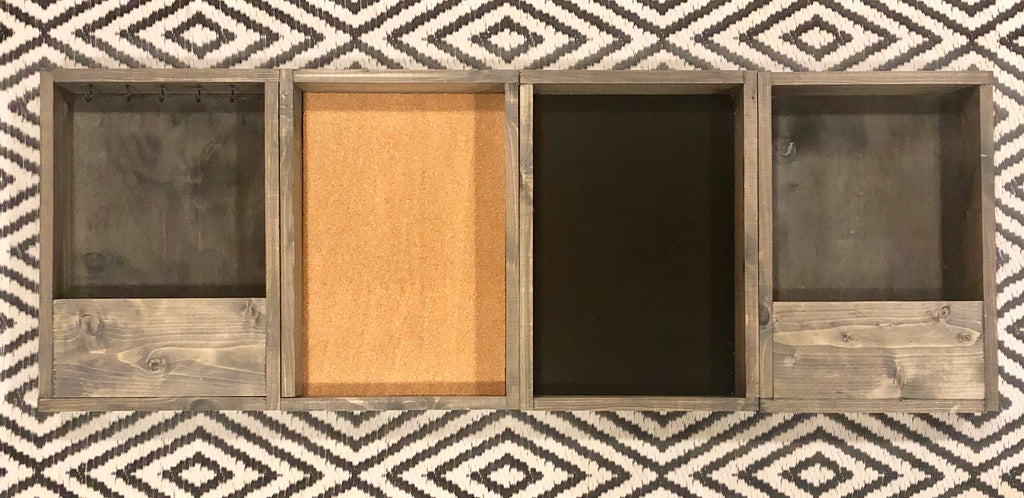 In honor of the month of love, for the first time ever, we offered a Chics With Tools for couples. The project? A modular wall organizer. Heidi and Brent were the inaugural couple. (This was actually her idea.) It was a great bonding experience that yielded a very tangible result. Read on to find out how to make one of these incredibly versatile projects for yourself.
Preparation
Cut the following pieces of wood:
8- 1"x4"x12 ¾"
8 -1"x4"x18 ¾
1-12"x18" ½" plywood
1-12"x18" chalkboard paneling
1- 1"x 6"x 12"
1-1"x6"x11 15/16"
1-1"x2 1/8"x12"
Other Materials:
1 12"x18" cork
1 magnetic catch
5 cup hooks
power strip
stain
INSTRUCTIONS
Mark holes in the small, narrow piece of wood for charging cords. Use drill press to make the holes.

Mark the holes for the cup hooks in a short frame piece. Drill pilot holes using cordless drill.

Using the drill press and 1 1/8" Forstner bit, make a hole for the power strip.
Using the plywood as a template, cut the corkboard with a box knife.

Sand off any rough edges and wipe off dust.

Using a rag, lightly stain the wood, wiping off excess.
Using 1", 18-gauge nails, tack the frame to the ½" plywood.

Connect the frame pieces to each other at the corners with 1 ½" nails.

For the charging station, insert small piece with holes. Using 1 ½" nails, attach it to the frame, 3" from the bottom.
Attach magnetic catch to the charging station unit.

Attach piece for inbox".

Using construction adhesive, attach chalk board panel and cork board.

Screw in cup hooks.

If time allows, stencil labels may be added.

Nail components together if hanging as a single unit. Otherwise, attach hanging hardware.
There you have it: marital bonding and a home improvement project, all in the space of two hours!