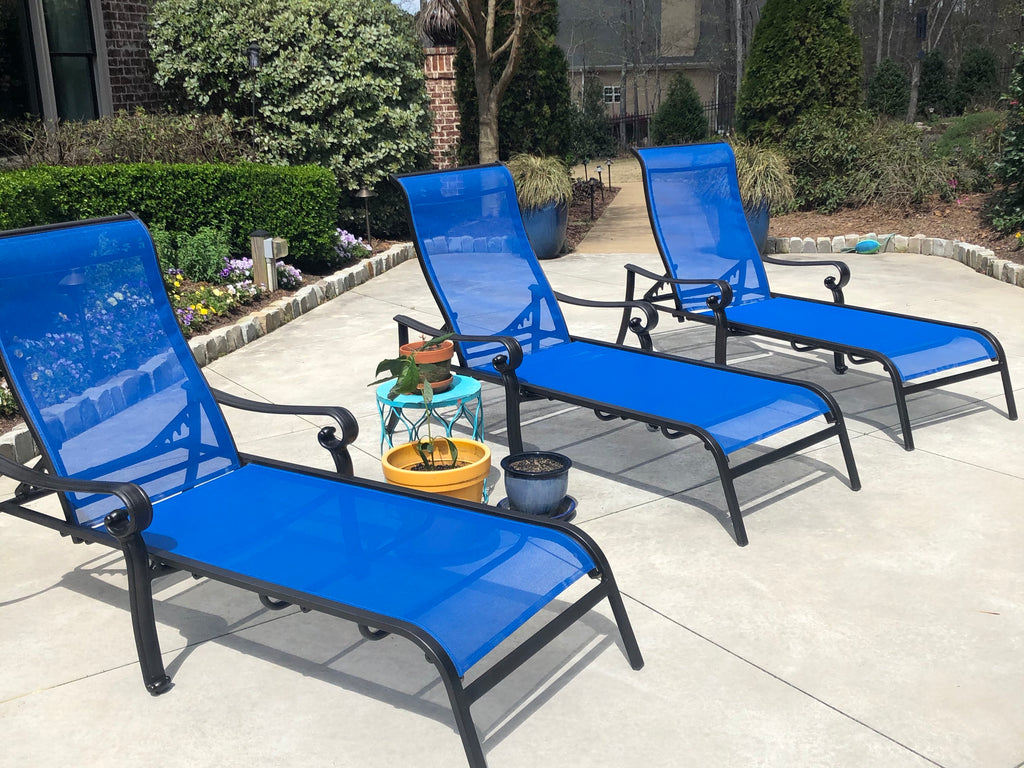 This time of quarantine has given me the perfect opportunity to get some things checked off my list. Although, the more I do, the more I realize I have to do. I have to admit that the endless stream of projects is a little overwhelming but I am determined to keep chipping away at them. One of my least favorite things to do, however, is maintaining things. I am fine with the initial building but then I am done. But we are not being good stewards if we don't take care of what we have which is why I did today's project.
Probably eight years ago I purchased these three lounge chairs at a yard sale. Ironically, the lady was selling them because she had never gotten around to recovering them. I can never remember if I bought them for $15 each or total but either way, they were a bargain because they were very sturdy. So I took them home, repainted them, and put on some canvas that the salesman said was for outdoor use. (He was wrong.)
So when the fabric faded, I made new slings (that's the cloth part) from actual mesh made for that purpose. But alas, the Georgia sun and winter weather took their toll and once again, it was time to refurbish them....last year. I purchased the mesh online, bought spray paint, then added the chairs to my never-ending to-do list.
Finally, the March shut-down gave me the motivation to get the job done. If you want to tackle this project, here is how to do it.
Order mesh online and purchase spray paint. It takes about two cans per chair. (Don't take the chairs apart until you have all of your materials.)
Wash the chairs.
Spread out a tarp and take pictures of the details of the chairs so you can remember how to put them back together. Take the chairs apart and save everything. You may need to use a screw driver to loosen the fabric from the frame. (Keep the components of each chair together, do not mix them up. Even though these are made by machine, there is enough variation that parts from one may not exactly fit another.)
Spray paint the chairs with two or three coats.
Using the original slings as a pattern, cut mesh.
Hem the top and bottom.
Fold over and sew the sides, allowing enough room for the plastic dowel to go through. 
Double stitch everything for strength.
Thread dowels back into the sides of the slings.
Feed the slings into the side pieces of the painted chair.
Assemble chair.
I know I made it sound simple but it actually is. Yes, it will take time. It's a good weekend project but look at the results! All you really just need are some basic sewing skills and the ability to use a screw driver. It will save you hundreds in the long run so give it a try!