Epic Fails on the Way to the Perfect Macaroni and Cheese Recipe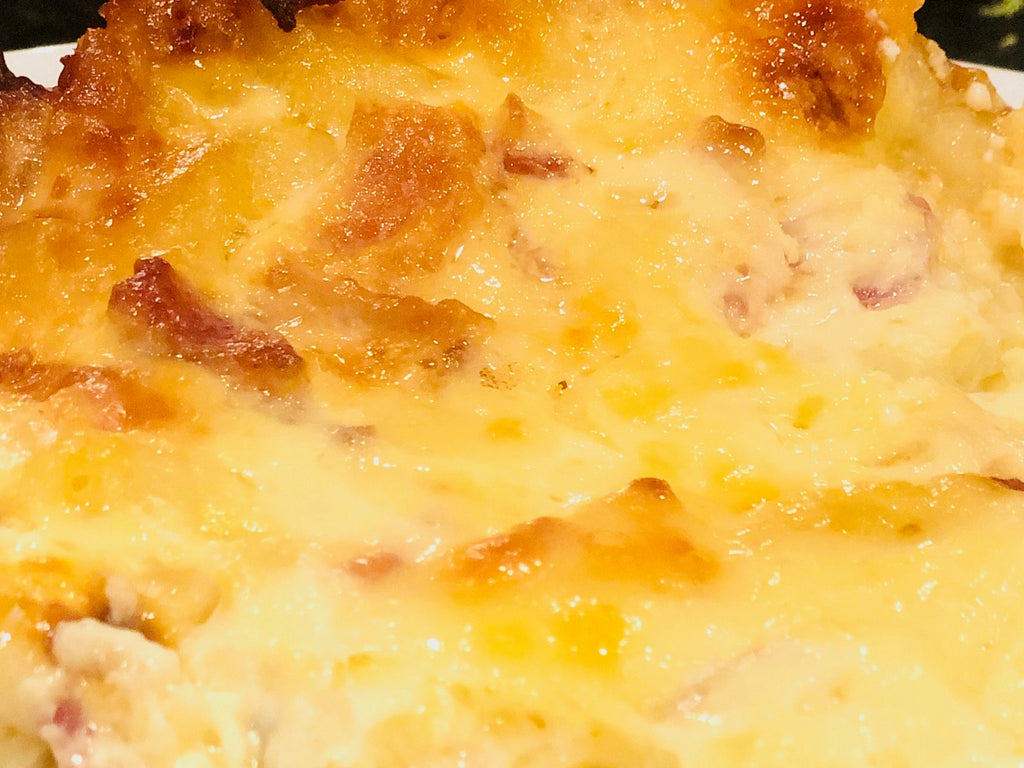 A southern event is not complete without macaroni and cheese. As a Hoosier, this phenomenon was new to me.  I mean, I ate lots of the stuff growing up, both homemade and, dare I say it, Kraft from the box, which I still like. But I had never actually made the real thing.
EPIC FAIL # 1
My first epic fail with macaroni and cheese was when the hubs and I were engaged and I was cooking for he and his roommate, another southerner.  I made the colossal mistake of preparing it with blue cheese because it was all we had in the house. Even for these guys who were happy to eat just about anything, this was a stretch.  I still laugh (and wince) about that debacle and my guests' faces as they tried to choke it down politely, without gaging. 
Lesson Learned
Don't use blue cheese in macaroni and cheese unless you are a great chef and know what you are doing.
Since I was going to marry a southern boy, I knew I had to master macaroni and cheese for his sake. After all, it was one of his favorites and making it from the box was tantamount to a capital offense. After that I started using a Better Homes and Gardens cheese sauce method. But that came to an end when I had my second epic fail. 
EPIC FAIL #2
We were doing a fundraiser at our house for Radooga.I was making a triple batch in a giant stock pot. It was FILLED with cheese, milk, and flour. As per usual when there are people around, I got distracted and forgot to stir it. By the time I remembered the cheese sauce, it had seriously scorched. It was smoked and not in a good way. I had to throw the whole thing out and for this girl who hates to waste things, it was seriously vexing.
Lesson Learned: If you are easily distracted, either ditch this kind of recipe or make it when you can focus.
To be honest, even when that recipe was done perfectly, it was a little grainy. When we lived in South Africa, the baby gouda I used worked beautifully but in the U.S. I never seemed to find the right kind of non-processed cheese  that became perfectly smooth.  I was definitely open to finding a new recipe.
I thought I had found it a couple of years ago so I decided to make it when a relative's family came to visit for the first time ever. The mom was a great cook and her husband and kids knew it.  I felt pretty confident in my culinary skills too. But you know, sometimes, for whatever reason, God decides to let us eat some humble pie.
EPIC FAIL #3
It was my second time making this particular macaroni and cheese. The recipe said I was supposed to bake it for an hour. So, we went to church and I put the oven on a timer so it would be done when we got home. Not surprisingly it stayed in longer than an hour. 
When we were ready to eat, the Mac & Cheese looked like it belonged next to the turkey at the Griswald Christmas Dinner. The top ¾" was pretty much like eating noodles from a cardboard box. You could hear the crunching that seemed to go on and on and ON.
'Someone turn the music up louder so I don't feel mortification with every bite!'  
I found myself saying things like, "If you go below the crunchy layer, it's good" and "the instructions said…" 
I was internally screaming, "Kids, I really can cook! I promise! Don't hold this against me forever! Don't let this be the barometer by which you measure my domestic capabilities!". Ugh!
 Lessons Learned:
If you are using an unfamiliar recipe for company. Don't walk away. Be vigilant. Every oven is different.
People do make mistakes writing recipes sometimes. If it sounds like 1 tablespoon salt should be 1 teaspoon, it's okay to question it. Recipes are not sacred.
The truth is, with the proper cooking time, that was a great recipe but my search for the perfect Macaroni and Cheese ended when I was looking for a version I could make in a crockpot. Eureka! Trisha Yearwood came through for me! What makes this one so great? Because most importantly, it follows my mother-in-law's advice; go light on the noodles. This recipe calls for only 8 oz. of pasta to 20 oz. of cheese! Yes, Ma'am! Here is my take on this "no worries" recipe.
No-Stress, Slow-Cooker Mac and Cheese
Ingredients
Cooking spray
8 ounces elbow macaroni, cooked
One 12-ounce can evaporated milk
1 1/2 cups skim milk (or whatever you have)
1/4 cup (1/2 stick) of butter, melted (optional)
1 teaspoon salt
2 large eggs, beaten
24 oz. sharp Cheddar cheese, grated
Directions
In a large 4-quart slow cooker (I use the casserole-shaped kind) sprayed with cooking spray, mix the macaroni, evaporated milk, milk, butter, salt, eggs and all but 1 cup of the grated cheese. Sprinkle the reserved cheese over the top of the mixture. Cover and cook on low heat for 3 hours and 15 minutes. Turn off the slow cooker. If you want to brown it a little, remove the liner and place in the oven under the broiler for a few minutes. 
Cook's Note: If you don't have a slow cooker, grease a 9-by-13-by-2-inch pan, add the mixture and bake at 350 degrees  for 50 minutes.
Variations: Try different cheeses like Swiss or Monterey Jack. A pound of bacon wouldn't hurt either. The one pictured is made with white cheddar and bacon.
In case you were wondering, years later the "Griswald Christmas" Macaroni and Cheese still comes up, with one kid in particular. So big deal! I know what I can do. I don't need the approval of everyone. And if it makes him even more appreciative of his mom's cooking, so much the better. I'll take the hit. I always say that God allows stuff to happen to us so we will tell the story. Okay, this is not a miracle or an act of divine intervention but sometimes, just sharing our embarrassing moments and epic fails may help someone else feel pretty good about themselves. So, you're welcome!
I would love to hear your stories about recipe foul-ups. Share yours with us in our Facebook group. We can all laugh (or cry) together.