Five Appetizers With Five Ingredients Or Less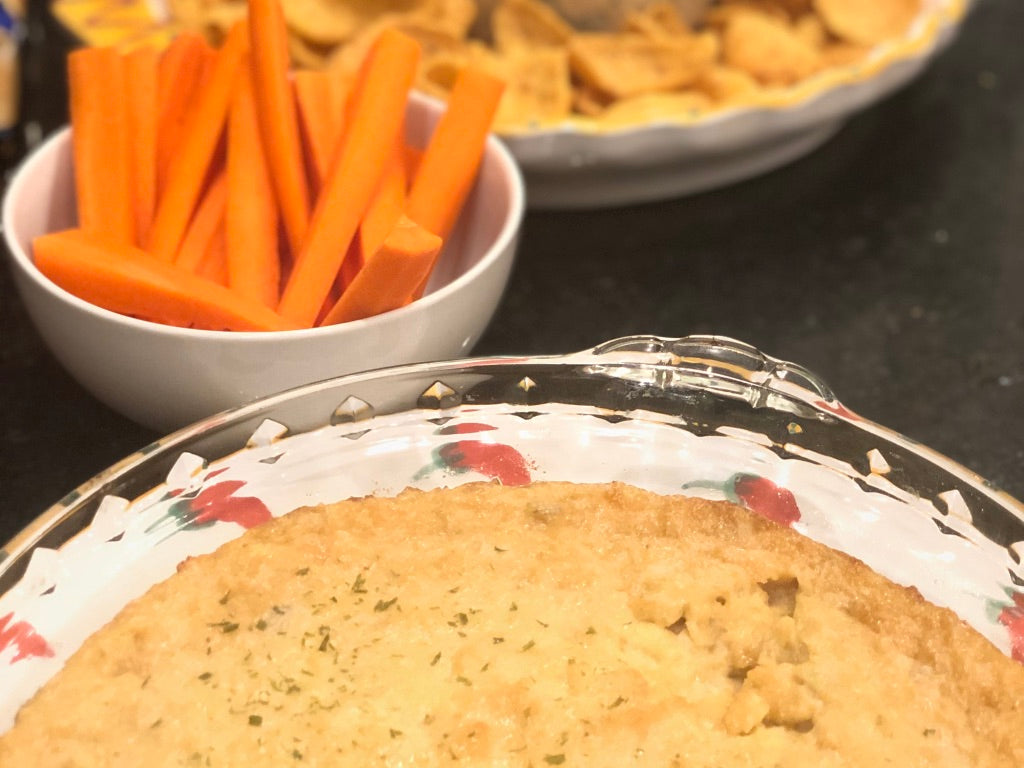 I love appetizers! For the past 14 years, or so, I have made a study of them. Some are a bit complicated but others are ridiculously simple. Today I want to share five tried and true recipes that I have made over and over.
But before we begin you need to know one major tip. Use real mayonnaise, real cheese, and real sour cream. I definitely noticed my food become more popular when I stopped trying to use light versions. Here we go, in no particular order.
1. Artichoke Dip
I first had this at a baby shower in Ukraine that was hosted by one of the embassy wives. I was floored at how good this was and immediately asked for the recipe.
INGREDIENTS
1 C mayonnaise 
1 C Parmesan cheese (I have used both the fresh and the shredded.)
1 can of drained artichoke hearts
DIRECTIONS
Put all ingredients in a food processor and pulse until blended and artichokes are chopped. Alternatively, chop the artichokes and mix all ingredients together in a bowl. Pour into a pie pan. Bake at 350 degrees for 20-25 minutes, until golden brown. 
Serve with tortilla chips.
You can bake this ahead and reheat it.
2. Harry and David Pepper Relish and Cream Cheese Dip
This recipe is stupid simple.
INGREDIENTS
1 jar of Harry and David Pepper Relish (or whatever knock-off you can find)
1 8 oz. block of cream cheese
DIRECTIONS
Option one: Mix the ingredients together and serve.
Option two: Place the block of cream cheese on a plate. Pour the relish over the top.
Option three: Pipe softened cream cheese onto crackers followed by a dollop of jam.
Serve with crackers, corn chips, or veggies.
3. Cheesy BBQ Pulled Pork Dip
This one came from the internet several years ago. You can either make it with prepackaged BBQ or your own smoked meat and sauce. 
INGREDIENTS
4 oz. softened cream cheese
1/2 C sour cream
1/2 t garlic salt
2 C grated sharp cheddar cheese, divided
1.5 C prepared BBQ pulled pork (like Byron's)
DIRECTIONS
In a stand mixer combine cream cheese sour cream, garlic salt, and 1 cup of cheddar. 
Stir in pork until well combined.
Place mixture in a baking dish and sprinkle with remaining cheese.
Bake at 350 degrees for 15-20 minutes until cheese is melted and bubbly. Serve with corn chips.
4. Pillsbury Pine Nut Pesto Appetizer
One of my cousins made this for a family gathering and it immediately became one of my favorites. If you like pie crust, this one is for you!
INGREDIENTS
1 (2 count) package of Pillsbury prepared pie dough
1/2 C pesto sauce
2 C shredded pepper jack cheese
Milk for brushing tops
2 T pine nuts
DIRECTIONS
Preheat the oven to 400 degrees. 
Place first round on a greased cookie sheet and bake for 8-10 minutes.
Remove from oven and spread pesto over the crust, followed by the cheese.
Place second crust on top and seal edges with a fork.
Put slits on top. 
Brush top of crust with a little milk and sprinkle with pine nuts.
Bake about 15 minutes or until lightly browned. 
Cool slightly and cut into wedges.
5. Brown Sugar Smokies
I can't remember where I had these first but they are a hit with every generation. We make these for birthday breakfasts as well as for party appetizers. Grab an extra set of hands to make quick work of them.
INGREDIENTS
1 lb. bacon
1 lb. little smokies
1 C brown sugar
DIRECTIONS
Preheat oven to 350 degrees.
Cut bacon strips into thirds.
Wrap one piece of bacon around each sausage and secure with a toothpick.
Arrange on a baking sheet lined with foil.
Sprinkle with brown sugar.
Bake until bacon is crisp and sugar is melted, about 20 minutes.