Learning On The Fly-A Traditional to Glam Table Transformation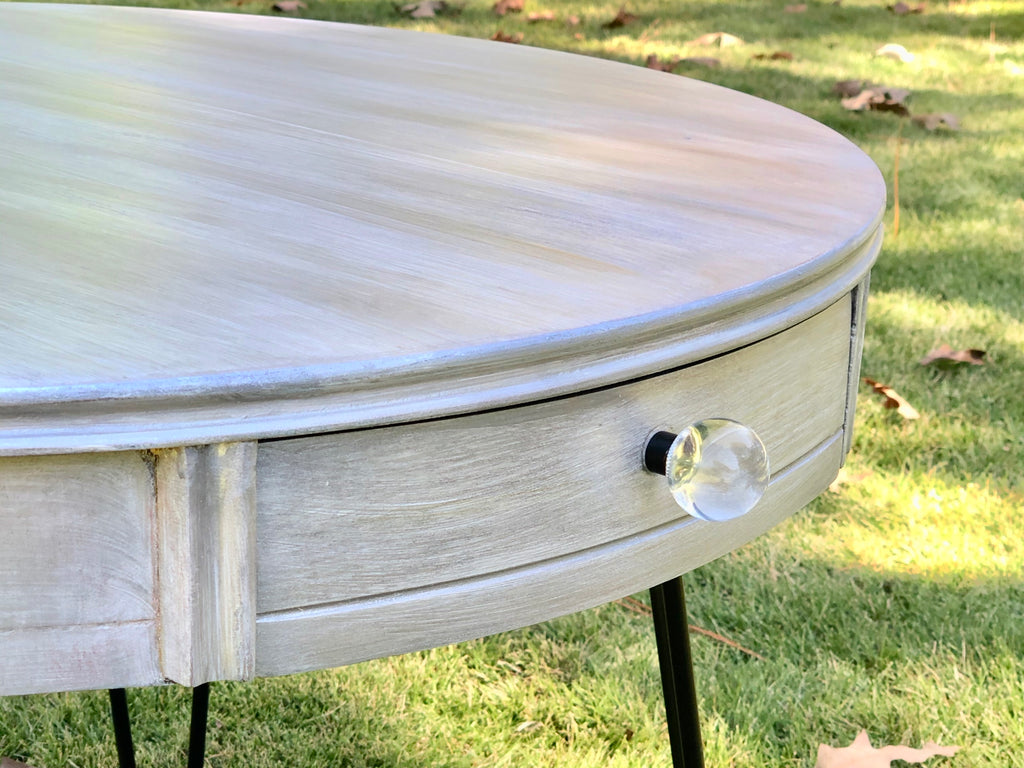 Because I am always doing one project or another, friends sometimes offer me things like fabric, table decorations, or in the case of today's blog, a piece of furniture. But besides showing the how-to's,  I want you to understand that  even though I have done loads of projects, I am always figuring things out as I go. I am a firm believer that for every problem, there is a solution and that it's important to embrace happy accidents. Anyway, sometimes the finished project, though different than what you planned, may turn out great! The important thing is that YOU like it.  So if you are crippled by indecision or perfectionism, read on to see how good things can happen if you just dive in and keep going.
From Traditional to Mid-Century Modern Glam...
My friend, Christie, had had this traditional side table for quite a while. But its leg had broken and the repair was failing. So instead of taking to the thrift store or leaving it on the curb, she decided to pass it on to me to see what I could do with it. I did not need one more project but I couldn't resist. I also knew that the makeover was going to be pretty simple so I wouldn't have to spend much time on it. 
My Plan: To strip the finish to reveal natural wood then to simply add hairpin legs. Easy, peasy, right? Well... 
First I stripped the finish off with a chemical stripper. But apparently I let it dry too long so it didn't work quite as well as I had hoped. Instead it became a tedious chore.  But what it did do was take off the varnish, making it easier to sand. Lesson learned: Don't let the stripper dry.
Next, I used a palm sander to remove the stain. But unfortunately, I didn't realize how thin the veneer was so I sanded a little too deeply revealing the substrate. So that eliminated the option of keeping the table natural. Lesson learned: Don't be over zealous with the sander.
Problem: Next I needed to do a little reconstruction.  First I had to get rid of the pedestal base. Easy, right? No! I thought I would just be able to unscrew it but apparently it had been glued or something.
Solution: I had to cut it off with a reciprocating saw. Don't look under the table. 
Problem: I didn't want to dismantle the whole table but the drawer and supports were a bit of an obstacle so that I could not screw the new legs directly into the bottom of the table top. Plus even if I did the table would have ended up pretty short.
Solution:  I put some scraps of 2"x2"s on the underside of the table top. Then I cut a piece of wood to make an even surface to be able to screw in the legs, which I bought on Amazon, by the way.  No, it's not too pretty so again, don't look under the table.
Trail and Error: For the finish,  I still wanted to keep it light so I tried a light stain. I didn't like it so I did a dry brush effect with white. Then I walked by a can of silver metallic paint that was calling to me and decided a subtle sheen would be ideal so that's what I did. 
I completed the touch of glam look with a little sparkle in the way of a lucite knob.
Humble Pie: I have to tell you something funny. When I finished this table, I posted this photo on a bunch of Facebook sites to sell it.
The only response I received from the ads was a lady who wanted to know how much the brown table was. She liked the "before" picture better! I actually thought it was really HILARIOUS!  That's one way to keep from getting a big head. But like I said, the important thing is that YOU like what you do! So just go for it!