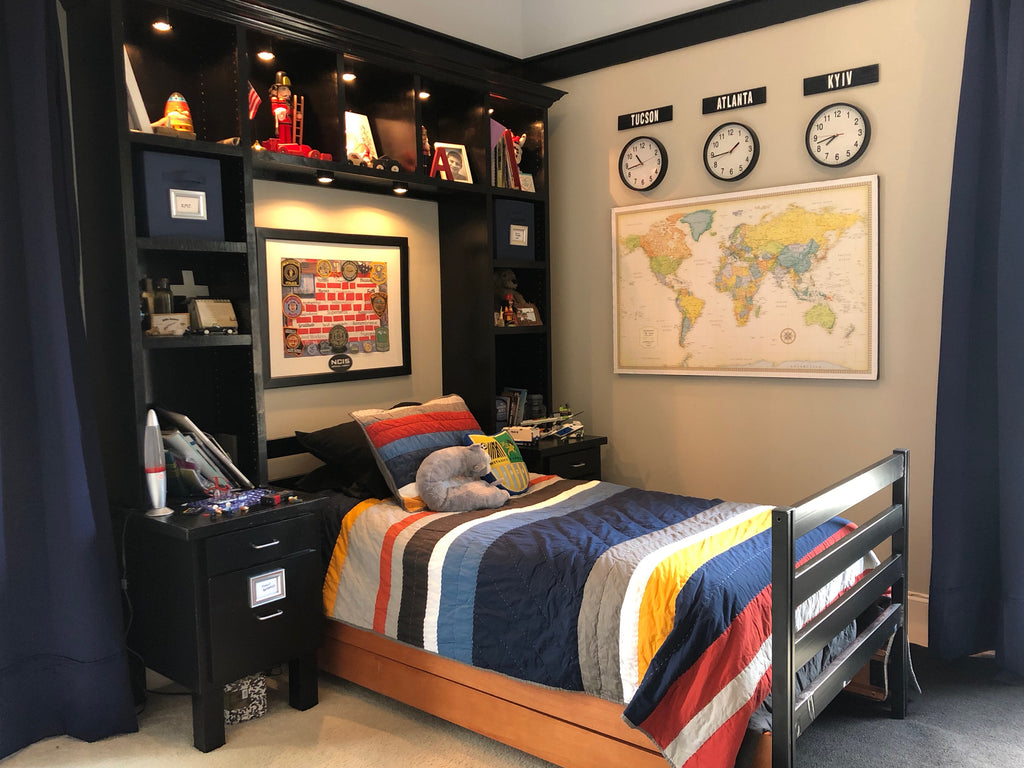 Don't you hate living in an in between state? This can be with relationships, jobs, or other major life decisions but I am referring to something not quite so serious: home decor.
In 2007 we moved into our house and our eldest son was five. His room reflected that. It was bright, happy, and playful. But then we adopted a boy and a girl from Ukraine in 2014. The boys had to now share this space, which was already getting a little too babyish for child #1. After a couple of years, our big boy moved to his own room on the lower level, leaving little brother in the space. But this child #3 took things down that I had carefully designed, then randomly hung other things up, broke some things, and basically beat up the room, as kids are want to do. 
When he turned 16 I promised him a room makeover. I bought bedding from Pottery Barn, curtains, collected ideas, and a few trinkets, like the deer head below,  then 1 1/2 years passed. So finally, in early February I decided to GET IT DONE!
To begin, we painted the walls Agreeable Gray, by Sherwin Williams, which we had used in our living room. I was determined to not paint the cathedral ceiling and fortunately the light blue worked with the rest of the design.
I painted the wall trim black and touched up all of the other painted surfaces that had fallen victim to Legos and toy cars. I decided, though, that all of the white doors and trim could wait until a later date which leads me to....
Tip Of The Day- You don't have to paint EVERYTHING!  Sometimes the thought of painting walls, ceiling, trim, and furniture can be cripplingly intimidating so just do what is necessary. 
To make the room really special and unique to our son, we did a few projects.
PROJECT #1: To help Child #3 with organization, I decided that everything needed to have LABELS. If you zoom in on them you will get an idea of my child's personality. To do this yourself...
Do all the organizing and purging before the makeover.
Get mini plastic silver frames from Dollar Tree and remove the glass.
Make labels from card stock. These can be changed out as needed
Hot glue frames onto  drawer fronts, crates, and even canvas storage boxes
PROJECT #2:  Our son had asked for a WHITE BOARD. Instead of the typical office route I went to Goodwill. To do this yourself...
Buy a picture frame with glass or plexiglass.
Cut white poster, foam, or mat board to fit and you have a white board, framed and everything.
Screw a basket to the wall to hold dry erase markers and an eraser.
I got the stop sign at an antiques sale. It came off of an old school bus.
PROJECT #3: My boy also asked for a MAGNET BOARD in his loft space. Those can get really pricey. But our giant 3' x 4' piece was about $40. To do this yourself...
Go to a home improvement store pick up sheet metal that is used for duct work.  
Screw it into the studs in the wall. 
If you are afraid of sharp edges, just attach some strips of wood to frame it out.
PROJECT #4: The GUN RACK came from Goodwill. A quick coat of spray paint updated it a bit.
PROJECT #5: This boy wanted a WORLD MAP that he could put pins in. The size of the map created a problem for framing so I decided to try something new. To do this yourself...
Buy some foam insulation at the home improvement store. It comes in different thicknesses but we chose 1 1/2".
Using a box cutter and straight edge, cut it to the size of whatever you want to mount.
Blnd the edges using black gorilla or duct tape.
Use some spray adhesive to keep the map or art in place. Having a second person is very helpful.
Secure the perimeter of the piece with straight pins.
Attach the finished prioducts to the wall with Command Strips.
It gives the illusion of a high-end mounting job for about $20.
PROJECT #6: Right above the map was the perfect spot for a CLOCK WALL. To do this yourself...
Purchase inexpensive clocks from Amazon. Be sure they don't make a ticking sound.
Cut thin wood or foam board to desired size for signs.
Paint the wood black.
Use adhesive vinyl lettering or stencils for city names.
Attach the signs to the wall with Command Strips.
We chose these three time zones because our son has a close friend in Tucson, we live near Atlanta, and he is from Ukraine.
PROJECT #7 : We wanted a way to incorporate our son's collection of first responder patches and badges so we made a COLLAGE. To do this yourself...
Get a picture frame.
Insert a piece of art. He had done one to commemorate 9-11.
Hot glue memorabilia all around.
PROJECT #8: We needed to change the CURTAINS. Our child requires blackout, the windows require extra-long height, and I require budget friendly. To do this yourself...
Find a bargain blackout curtains.  I think I paid $10 a panel on Zulilly.
If they are too short for your windows, buy extras.
Cut up the extra panels and add the needed length to the  full-length curtains. 
Pretend like the seam is a design feature.
A couple other details were a quick easel I made to hold our son's model of the Great Wall of China, a school project he is not willing to part with just yet. 
PROJECT #9: On the wall below that is a Chics With Tools Project from last year, a PHOTO CLIPBOARD. To do this yourself...
Get a board, 6'x8"
Paint it. I did a stripe of chalkboard paint in case I wanted to label the photos.
Screw in clips.
Screw board into wall studs.
Hang photos. I did one for every school year. He still has a few to go, thus the blank spaces. 
The finished product is a little grown up but very much our son. He got to have a say in it and even helped a bit. The best part is that it is all his, not an inherited room. AND IT IS FINISHED!