The Wedding Dress Dilemma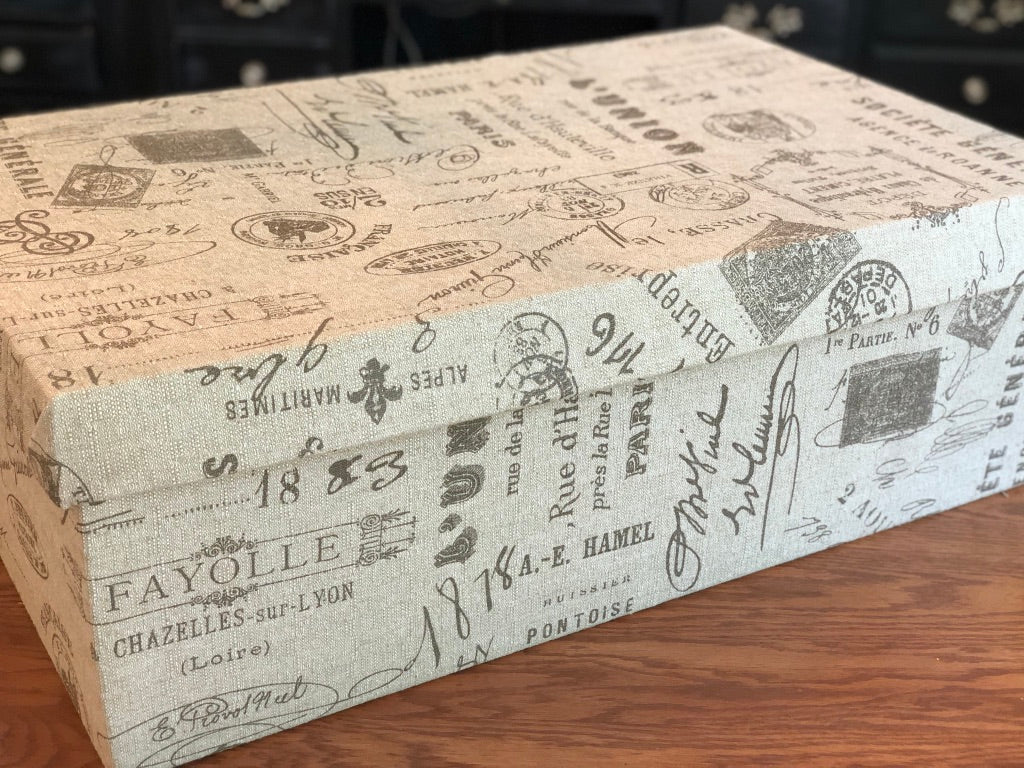 What do you do with your old wedding dress? Like many newlyweds, I had mine cleaned and preserved. It is sealed in a box for the day one of my girls may possibly want it. Yes, it probably will have yellowed but I just couldn't part with it all those years ago. But that created a problem.
I had this giant box that just kept getting moved from place to place. If I would have stored it in the attic, it probably would not have liked the intense heat. It took up too much space in the closets, so what to do? The answer was to "hide it in plain sight". I decided to camouflage the box and display in our bedroom. Besides, the top of our armoire looked naked so it was the perfect accent for the space. Here is how to do this yourself.
MATERIALS
2-3 yards of fabric (thick enough that you cannot see through it)
Carpet tape, hot glue, and/or fabric glue
Scissors 
 INSTRUCTIONS
Buy some pretty fabric. I used some with French writing on it. (Why is it that anything looks or sounds good in French?)
Cut one long piece of fabric to go around the front and sides, leaving about 1" extra all the way around to glue it to the back, top, and bottom. Using carpet tape, fabric glue,  and/or hot glue, attach the fabric to the box. Don't worry about covering the bottom. (The process I am describing to you makes the most of a limited amount  of fabric which is why a did not wrap one length all the way around the box  but instead did it in sections. If you have a lot, you can always do it in one piece and turn under the rough edges where the ends come together in the back.)
Cut another piece that will be for the lid, again adding extra so the rough edges can be turned toward the inside of the lid and down the back a little. To go around rounded edges, cut slits in the fabric.
To do the box corners, fold fabric like a square corner on a bed.
Cut a final rectangular piece for the back. Before adhering it to the box, fold all the edges under and glue them down. Then attach the whole thing to the back of the box.
Voilà! It will take you longer to choose the fabric than to do this project.
I displayed the box in a grouping. I purchased the round box which contains my veil then topped it off with a Ukrainian fur hat. Hey, it works for us since we met in that country.
No matter how you display your newly wrapped wedding dress box, the bottom line is that  you won't have to trip over it anymore while adding a pretty accessory to your home.