Who Doesn't Love an Upcycle?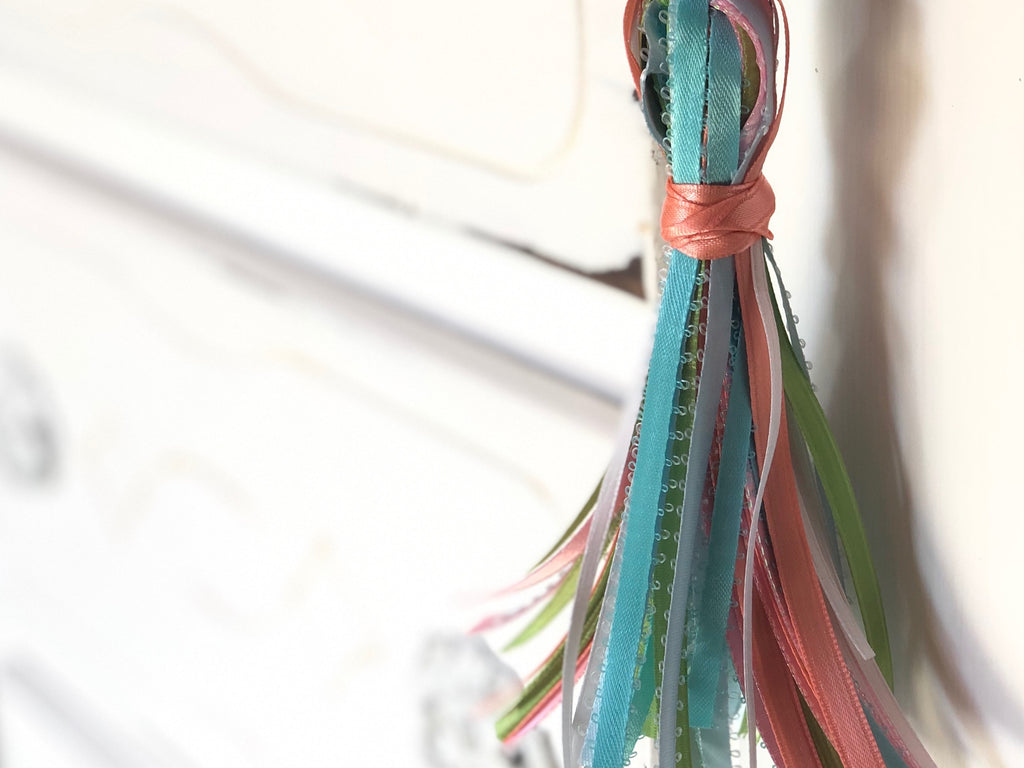 Have you ever been overwhelmed at the task of furnishing a new space? In 2020 when we purchased Century View Lodge, we had to fill it top to bottom. Since it was mainly to be a vacation rental, we really needed to focus on function, durability, and of course, style. But I am not one for going and buying out a showroom plus it would have been ridiculously expensive. I require charm from a bygone era. 
It was no hardship for me to do some second-hand shopping.  Today I am focusing on showing you one of the four bedrooms in Century View Lodge, Mountain Laurel. We named all of our spaces.  The design started with the name. It informed the colors as well as the feel of the room.  When our  eldest daughter is with us, this is her room so it seemed fitting that we made it a little more "precious" than the other spaces. Here is how the room came together.
The most important thing in a bedroom is obviously the bed. I found this oak beauty at Better Way Bargains, the queen size I needed. 
Some of you purists may cringe at the fact that I painted the bed but I just had a vision of it being green plus we already had SO much wood in the house I needed to take the rustic down a few notches.  Though usually I paint furniture with a brush, I used spray paint instead. It made very quick work of all those spindles plus it dried in much less time than latex.
You may have noticed the beautiful artwork above the bed. I commissioned my friend, Silvi, to do a painting of a mountain laurel branch.
The next project for that room was the wardrobe, more accurately, the chifferobe, which is a piece that combines hanging space with drawers and often a mirror.  You may wonder why I chose this. Well, that room was built as a home office so it had no closet. This solved the problem with style. 
The Rockin' B Antiques Store is where I found this treasure. It was in very good shape but I felt that the original wood finish was too brown and too, well...great-grandma-ish.  So I painted it a creamy white, including the hardware, but then sanded back some areas to add a little shabby-chic vibe. 
My favorite part of this particular project was the key, which surprisingly was still there. I bought a bunch of ribbon to match the painting, rug,  and throw pillow and made a tassel. It was just the touch it needed.
I felt like a little more storage was needed and also a place for suitcases. So I hit up another one of our local stores, Red Door Consignment, and found this piece. It was much more contemporary in design and construction but suited my needs. It did need a couple of tweaks, though. 
For starters, the bench was missing a back. Some scrap luan took care of that. 
It also was too modern looking. So I added some feet to the front legs that I had cut off of another piece of furniture ages ago. I always save these random parts for such occasions.
Finally a couple of new knobs completed the subtle transformation. 
One final piece of storage was a set of wall hooks I bought at the Salvation Army Store for $3. The same spray paint as the bed did the job of taking it out of the 70's.
As you can see, nothing I did was terribly complicated, nor expensive. In fact I saved a bundle for very little effort. Don't be afraid to give furniture transformations a try!
If you want to experience Century View for yourself
, book it today!