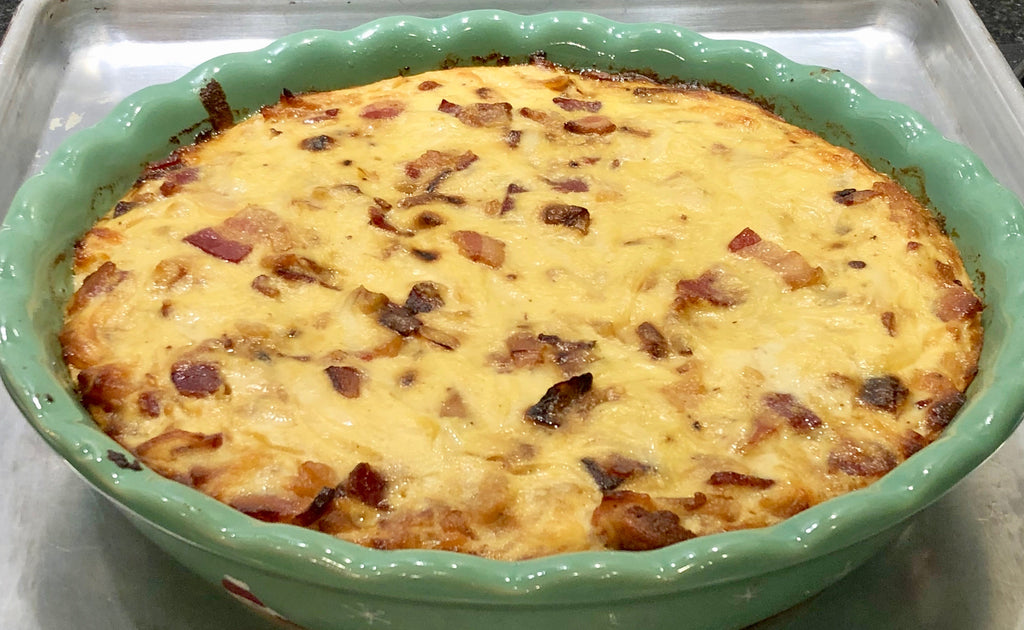 Do you get tired of the same old, same old when it comes to breakfast, especially when entertaining? One issue is that having something tried and true is less stressful than experimenting every time someone comes to visit. But the other thing is that you don't always want to wake up before dawn on a weekend to make a meal. I have a couple of fan favorites that I alternate between. But the one I am going to share is so versatile that it can be adjusted for just about any flavor combination.
The original recipe came from the book Once a Month Cooking. But I have added my own twists over the years. One of the best parts of this recipe is that there is no crust which helps if serving gluten-free friends, but also allows you to serve another starch or bread without too much guilt.
(Disclosure: This blog contains Amazon.com affiliate links through which I may earn compensation.)
Here is the basic formula:
4 eggs or 8 egg whites
2 cups shredded cheese
1 16-oz carton cottage cheese or ricotta (The fat content is up to you.)
10 oz. or 1 1/2 C of cooked, moisture-free vegetables
1 lb. cook meat
The original recipe had no meat and called for green onions and spinach. Though it was delicious, that's not everyone's favorite. But using Jimmy Dean pork sausage and sharp cheddar cheese? Now that's a crowd-pleaser! Yesterday's experiment was a Quiche Lorraine version.
CRUSTLESS QUICHE LORRAINE
1 lb. bacon, cooked to a crisp 
1 chopped onion (cooked in bacon greased for extra flavor)
4 eggs, beaten
16 oz. ricotta
2 C (8oz) Swiss, shredded
Cook bacon then crumble it. Sauté  onion in grease, butter, or oil until soft. Combine with all other ingredients and pour into a greased pie plate.
At this point you can freeze it. See Tip #6.
When ready to use, put it on a cookie sheet. Bake at 325 degrees for 1 hour. If the top gets brown too quickly, cover with aluminum foil. Depending on the water content, it can take from 45-90 minutes.
Tips:
Cook the bacon well or you will just get bites of rubbery fat.

Shred your own cheese. Some manufacturers put some sort of powder, most likely potato flour, on pre-shredded cheese to keep it from clumping. But in my opinion, this doesn't allow it to melt smoothly.

If adding vegetables, cook as much moisture out as possible. Otherwise the quiche will be watery.

Fat-free cottage cheese will also add to the water content to the quiche, thus extending cook time.

Freezing ricotta cheese is okay, but it will probably become watery and extend the cooking time significantly.

I freeze this ahead all the time. It is perfect if you are feeding people really early in the morning because you can stick it in the oven before going to bed, frozen and uncovered. Set the oven to turn on in the morning, allowing extra time in case it takes longer than expected. Then when you wake up it will be thawed and already cooking. Serve it with anything, really.
Here are some ideas to mix and match.
Whole Eggs
Egg Whites
Egg Beaters

Swiss
Cheddar
Parmesan
Pepper Jack
Monterey Jack

Breakfast sausage
Chorizo
Bacon
Ham
Turkey
Chicken 

Spinach
Onions
Peppers
Mushrooms
Tomatoes
Summer Squash


The possibilities are endless!
Why not give it a go?